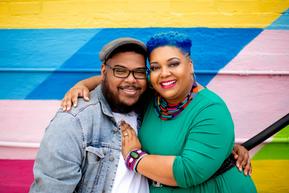 Regis and Kahran Bethencourt
Husband-and-wife duo Regis and Kahran Bethencourt are the imaginative forces behind CreativeSoul Photography, Atlanta, Ga., specializing in child and lifestyle photography incorporating authentic visual storytelling. Their first picture book, The Me I Choose to Be (Little, Brown Books for Young Readers), received the first Coretta Scott King/John Steptoe New Talent Illustrator Award given for photography.
This is the first time photography has been honored with the Coretta Scott King/John Steptoe New Talent Illustrator Award--how do you feel?
It feels amazing! We were totally surprised by this award and are humbled to be among so many great authors and illustrators!
Would you tell us a bit more about the process behind your photographs? How much is taking pictures. How much is digital art?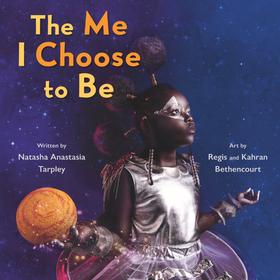 We do a lot of the heavy lifting in the actual photos: getting the models into wardrobe/hair/makeup, setting the lighting so that it matches the scene we're planning and adding props where needed. In the post-processing part, we're able to extend our images beyond anything we'd have access to in the real world. We love that we were able to add a bit of fantasy into our images using digital art.
How do the two of you work together to build your beautiful pieces?
Regis is the magic man behind a lot of our costumes, sets and props. I am usually on the lookout for new ideas and inspiration, and he's usually able to bring my crazy ideas together.
What was it like to take picture book text and turn it into art? Were children's books something you had considered doing previously?
We had thought of doing a children's book in the past but had no idea it would be this soon. In the beginning, we had to wrap our heads around the process because it's a bit different when shooting for specific text. We had to figure out which part of the text would work best in photos and how we could capture the essence of the story in just one or two photos.
Do you have any plans for more children's books? Perhaps one you write yourselves?
We definitely plan for more children's books and even writing our own. Stay tuned!
Who do you hope reads this book?
We honestly would be thrilled to see kids of all races and ethnicities around the world reading this book. We think that it's so important to normalize positive representation of Black kids in the media, so it's important that we're able to reach the next generation with this positive message.
Is there anything else you'd like to say to Shelf Awareness readers?
We'd just like to say that we are grateful to everyone who has supported our movement, purchased our books and shared the word with their family and friends. For those who are not familiar with our work, we hope that they will be inspired to dream big. --Siân Gaetano, children's/YA editor, Shelf Awareness