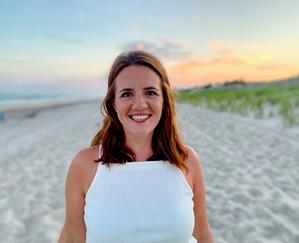 photo: Erin Pellegrino
Amanda Pellegrino is a TV screenwriter and novelist living in New York City whose writing has appeared in Refinery29 and Bustle. Smile and Look Pretty (Park Row Books; March 8, 2022) is her debut novel, a fast-paced millennial rallying cry about the consequences of whistleblowing for an entire generation.
On your nightstand now:
Most books on my nightstand right now are research for work or for my second novel, things like Amity and Prosperity by Eliza Griswold, The Boom by Russell Gold, Educated by Tara Westover, Cultish by Amanda Montell and The Making of Biblical Womanhood by Beth Allison Barr. The second I'm finished drafting my book, I'm really excited to dive into The Plot by Jean Hanff Korelitz and We Are Not Like Them by Christine Pride and Jo Piazza.
Favorite book when you were a child:
I was obsessed with everything Madeline by Ludwig Bemelmans when I was really young. I read the books until the pages were torn and had half a dozen little redheaded Madeline dolls. I also read all of the Magic Treehouse series by Mary Pope Osborne, and when I was in middle school, I loved the Gallagher Girls series by Ally Carter about an all-girls boarding school for spies. I'm still convinced I'd make a fantastic spy.
Your top five authors:
This is constantly changing, so for today: Jessica Knoll, Gillian Flynn, Erik Larson, Jennifer Egan, Colson Whitehead.
Book you've faked reading:
A Little Life by Hanya Yanagihara. I love this book and think the writing is exquisite but for some reason I can only ever get through the first hundred pages.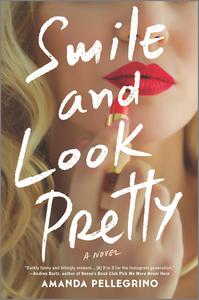 Book you're an evangelist for:
I re-read On Writing by Stephen King at least once a year, or when I'm feeling stuck and like writers' block has completely taken over. It has helped 100% of the time.
Book you've bought for the cover:
I read the hardcover of The Assistants by Camille Perri, but I also bought the paperback when it came out because I loved that version of the cover so much.
Book you hid from your parents:
I don't think I've ever hid a book from my parents. My mom has always read whatever books we were assigned at school or were interested in. We had a pretty shared library in our house growing up.
Book that changed your life:
Luckiest Girl Alive by Jessica Knoll. I read this book in two days and re-read it at least once a year. I've also listened to it and think the audiobook narrator does a fantastic job. I find it to be a perfect example of an unlikeable female character who you root for because she's incredibly sympathetic. You end up loving Ani FaNelli the same way you love Don Draper or Dexter Morgan and I hadn't quite seen that in many female characters before. It made me want to write characters like Ani FaNelli who are deeply flawed and allowed to be multi-faceted like all the male characters I've ever read.
Favorite line from a book:
I think often about a line from This Is Where I Leave You by Jonathan Tropper: "My marriage ended the way these things do: with paramedics and cheesecake."
Five books you'll never part with:
Luckiest Girl Alive by Jessica Knoll
Leave the World Behind by Rumaan Alam
I'll Be Gone in the Dark by Michelle McNamara
Room by Emma Donoghue
Catch-22 by Joseph Heller
Book you most want to read again for the first time:
Luckiest Girl Alive by Jessica Knoll.