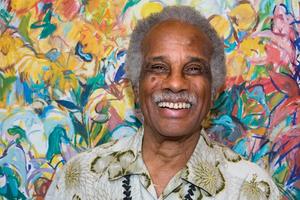 Ashley Bryan
Ashley Bryan, celebrated children's book author and illustrator, died February 4. He was 98. Bryan created more than 70 children's books (all published by Atheneum Books for Young Readers) across six decades. Simon & Schuster noted that as "an early, quiet and potent force in bringing children of color and issues of racial diversity into the canon of children's literature, he was committed to opening the eyes of children of all backgrounds to a wide range of themes through poetry, folktales, spirituals and biblical narratives."
He received Coretta Scott King Awards for multiple books, including Beat the Story-Drum, Pum-Pum and Beautiful Blackbird; as well as a Coretta Scott King honor and a Newbery Honor for Freedom over Me: Eleven Slaves, Their Lives and Dreams Brought to Life. His other books include Sail Away and What a Wonderful World. Bryan also received the Laura Ingalls Wilder Award and the Virginia Hamilton Lifetime Achievement Award. In 2008, he was named a Literary Lion by the New York Public Library.
"The gifts Ashley gave us through his art, his poetry, his books, his endless encouragement to relish the moment, are forever bright lights in our world," said Bryan's longtime editor, Caitlyn Dlouhy, v-p and publisher at Atheneum's Caitlyn Dlouhy Books. "But his innate unwavering belief in the beauty of everything, the value of everything, that he instilled in us all is truly immeasurable."
Born in Harlem, Bryan began pursuing art as a teenager and was encouraged by his teachers to apply to art school. Although rebuffed by art schools in the city because of his race, he was accepted at Cooper Union, with its blind admissions process, and became the only African American student at that time. In 1943, he was drafted out of art school to fight in World War II, a harrowing experience he eventually chronicled in his most recent work, Infinite Hope: A Black Artist's Journey from World War II to Peace. After the war, he attended universities around the world to complete his art studies.
Bryan called Islesford--or Little Cranberry Island--in Maine his home for six decades. There, in addition to his painting, linoleum block prints in emulation of medieval woodcuts, and collage work, he created hand puppets for his storytelling out of found objects salvaged from the island and sea, and stained-glass windows he fashioned from scavenged sea glass and papier-mâché.
The Ashley Bryan Center was founded in 2013 in Islesford, with the mission "to preserve, celebrate, and share broadly artist Ashley Bryan's work and his joy of discovery, invention, learning, and community." The center has donated a bulk of Bryan's archives to the Kislak Center for Special Collections at the University of Pennsylvania and is also in the process of distributing paintings to Maine institutions and beyond.
"I am deeply saddened to learn of Ashley's passing," said Maine Governor Janet Mills, who in 2020 proclaimed July 13 Ashley Frederick Bryan Day for his lifetime contributions to the state. "He was a wonderful, happy man with a deep, rich history, a great imagination, and a beautiful, childlike soul. I am so thankful I was able to spend time with him last year. Over our lunch, he spontaneously recited Langston Hughes, Shakespeare's love sonnets and other wonderful verses."
Tributes poured in from colleagues and fans, including Jason Reynolds, who tweeted: "The one thing I selfishly wanted for Ashley, was for him to receive a Kennedy Center Honor or a Medal of Freedom. Probably wouldn't have mattered to him because he was so loved by his people. But we throw 'National Treasure' around so cavalierly that when you get to know one, you realize how rare they are, and you want the world to dance jubilee in their honor. He deserved it. My god, Ashley, have you earned your rest."