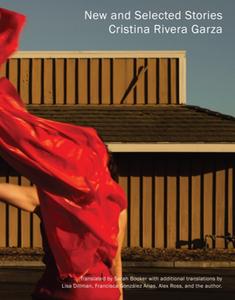 Cristina Rivera Garza, one of Mexico's most important contemporary authors, is progressively gaining renown in the U.S. (where she's lived since 1989) and has won a 2020 MacArthur Fellowship and a 2020 National Book Critics Circle finalist nod in Criticism. Indie press Dorothy's release of New and Selected Stories, which gathers 30-plus years of intriguing work, ensures English-speaking readers enhanced access to Rivera Garza. Sarah Booker, who also translated Rivera Garza's The Iliac Crest, leads the Anglophone team, which includes Francisca González Arias, Lisa Dillman, Alex Ross and Rivera Garza herself.
New audiences, perhaps, warrant an early caution: straightforward narrative cannot describe Rivera Garza's oeuvre. In her must-read introduction, she reveals, "After every ending I was nagged by the uncanny sensation that I had been close to something I could never fully grasp. That was enough, I told myself; even more than enough." Transparent understanding, definitive endings, convincing closure won't be found here; what Rivera Garza offers is invention, challenge, linguistic acrobatics and a more-than-occasional embrace of the impenetrable.
The collection's four parts retain their original Spanish titles: the first three sections were previously published, the fourth is a collection as yet unpublished in Spanish. In Part I's "La Guerra no importa" (War Doesn't Matter), Rivera Garza's main character in both "Unknowing" and "Like Bitches, Like She-Devils" is a woman named Xian, who recounts an overnight encounter with an abandoned lover in the former and who becomes the victim of a kidnapping in the latter. Xian returns, at least in name, in "The Last Sign" in Part III, La frontera más distante (The Utmost Border), in which she becomes a missing object-of-sorts for "the Man Who Swore He Had Lost a Woman from China." There are multiple mysteriously lost characters in that section, from the Stranger in "Autoethnography with the Other" to a stalker-maybe-murderer in "Carpathian Mountain Woman" to several journalists in "City of Men," a traveler in a snowy village in "Offside" and a headless corpse in "Simple Pleasure. Pure Pleasure." An unnamed Detective also recurs through numerous stories--searching but never quite finding. Part IV, Diminutus (Diminutive), composed of "speculative stories and flash fiction," points, in its final entry, "The Survivor of Pripyat," to Rivera Garza's extant blog, as if offering another portal to her enigmatic writing.
Gender disparity, violence, migration and disorientation are a few of the recurring themes throughout this collection; Rivera Garza's presentations invite continued interpretations and interrogations. As if aware of her stories' lingering, puzzling effects, Rivera Garza presciently summarizes, "We have shared the unintelligible together. We are kin now. We will never be alone." --Terry Hong, Smithsonian BookDragon
Shelf Talker: Cristina Rivera Garza's New and Selected Stories offers English-language readers access to more than 30 years of intriguing writing by one of Mexico's greatest contemporary authors.