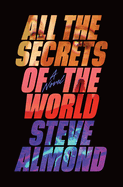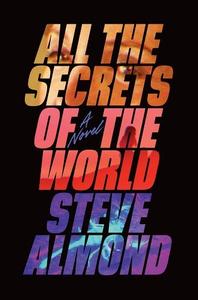 The fates of two Sacramento families collide most spectacularly in All the Secrets of the World by Steve Almond (Bad Stories; Against Football). This sweeping drama follows 13-year-old Lorena Saenz and a troubled scientist whose disappearance sets in motion a flawed criminal investigation that will ultimately ensnare Lorena's undocumented brother, Tony. Almond's first novel, set in '80s California, at the onset of the Reagan era, even features the astrologically inclined former first lady Nancy Reagan in a minor yet pivotal role fueling the ingenious plot.
Quietly nerdy and academically brilliant Lorena and popular rich girl Jenny Stallworth are middle-schoolers who exist in different social spheres, their paths unlikely to cross if not for their teacher pairing them for a science project. Lorena finds herself invited to the Stallworth mansion, where she develops an all-consuming crush on Jenny's father, Marcus, a scientist who studies scorpions. A quiet academic, Marcus is barely able to contain his inner demons and struggles against his worst impulses and temptations, especially when it comes to Lorena's fast-emerging womanhood and her tendency to show up at his study uninvited.
Tracking his characters from the Sacramento suburbs through the desert toward Yuma, Ariz., and beyond, Almond paints a satirically astute portrait of Reagan's America, with California the epicenter of the president's anti-crime campaign. When Marcus disappears and his Jeep is found abandoned south of Death Valley, foul play is suspected and Tony, the lowest-hanging fruit of possible suspects, is arrested. Once the idea that a delinquent migrant teenager murdered the missing scientist takes hold in the public imagination, officials twist logic and facts to suit their self-serving narrative. For Pedro Guerrero, the police officer who insists on uncovering the truth behind Marcus's disappearance and exonerating Tony, there is nothing but trouble ahead.
With cleverly overlapping subplots and a memorable cast of characters that includes a polygamous cult leader living on a Mexican ranch, Almond's meticulously researched novel is a triumph of storytelling powered by a central theme: the perilous disconnect between those who control or abuse systems of power and the individuals who are at the losing end of the power dynamic. A sensitive storyteller admired for his rich, diverse literary work and his quirky brilliance, Almond, a former co-host of the Dear Sugars podcast, skillfully embellishes his realist drama with notions of the magical and celestial, the mysteries of the desert and the fascinating biology of the creatures that call it home. --Shahina Piyarali, reviewer
Shelf Talker: The dawning of the Reagan era forms the backdrop of this ingenious satire-laced crime and social drama set in '80s California with colorful characters from across the socio-economic spectrum.