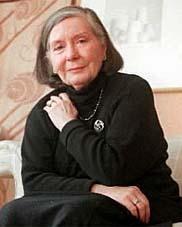 Maureen Howard
Maureen Howard, an author of adventurous fiction and a prizewinning memoir, died March 13. She was 91. She was also a longtime teacher of creative writing.
Howard wrote 10 novels, three of which--Grace Abounding, Expensive Habits and Natural History--were finalists for the PEN/Faulkner Award. Her 1978 memoir, Facts of Life, was a National Book Critics Circle Award winner. She also edited The Penguin Book of Contemporary American Essays (1984). Among other honors, she was the recipient of a Guggenheim fellowship and an Academy Award in Literature from the American Academy of Arts and letters.
Her first novel, Not a Word About Nightingales, was published in 1962. A second novel, Bridgeport Bus (1965), told the story of a beguiling Irish-American woman who leaves the emptiness of small town life in Bridgeport, Conn., for the maelstrom of Manhattan. Doris Grumbach called it "one of the most astutely funny novels of our time."
Many considered Howard's 1992 novel Natural History to be her masterwork. It was a family chronicle that incorporated drawings and photographs, in which Howard took her hometown of Bridgeport as her Dublin. In a front page review in the New York Times Book Review, John Casey wrote that "it is the combination, the jump-cuts, and layering and dovetailing of fiction and history and of a variety of voices that make reading this novel like watching a display of the aurora borealis." Later in her career, Howard produced a quartet of novels published by Viking Penguin--A Lover's Almanac (1998), Big as Life (2001), The Silver Screen (2004) and The Rags of Time (2009)--that critics praised as "brazenly intelligent" and "raptly adventurous" works of "historical density and deep emotional power." Each of the four novels was complete on its own, but characters and themes were woven across the cycle as a tapestry of seasons.
Anne Tyler called Howard "a most agile, inventive, and satisfying writer" who was always seeking new ways of telling stories. And John Leonard wrote in the New York Times, "Why Howard isn't cherished more is mystifying. It's as if, while nobody watched, Mary McCarthy had grown up to be Nadine Gordimer, getting smarter, going deeper and writing better than ever before, and she was already special to begin with."
A memorial is planned for the spring.