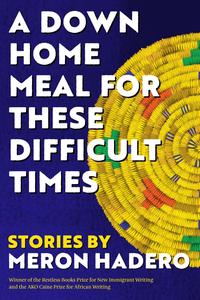 The characters in Meron Hadero's sharp-eyed debut collection of 15 short stories, A Down Home Meal for These Difficult Times, often find themselves caught between worlds. Whether arriving in the U.S. to pursue an education ("Medallion"), visiting family in Addis Ababa and feeling out of place ("The Suitcase"), or conversing with an elderly German neighbor in Iowa ("The Wall"), Hadero's characters are keenly aware of the contrasts between the places they have left and the places they inhabit. As they engage in "this most sacred and difficult task of staying put," they rely on their communities, which are often makeshift but become vital in keeping them grounded where they are.
While most of Hadero's characters have suffered and sacrificed to arrive in their new homes (or even to visit their children abroad), her stories focus on what happens after arrival: the bewildering blur of new customs and languages, the casual racism and mystifying paperwork, the layers of confusion and discrimination they must push through to build a home. Yet her characters find ways to make ends meet, and sometimes to thrive, in these unfamiliar settings. In the title story, two women meet in the back of a church classroom where their children are learning Amharic, buy a Good Housekeeping Illustrated Cookbook to share and eventually launch a successful food-truck business. Two cousins share a cab and a bed in "Preludes," using each in shifts so they can earn a living and also rest. And an enterprising young man named Getu, after being let down by his contact at an NGO, finds a last-minute way to capitalize on the connections he has built among expats and aid workers.
Hadero sometimes veers into satire, as in "The Case of the Missing Prime Minister," a narrative told in reverse chronology about the prime minister of an unnamed country who disappears abruptly, to the chagrin of his countrymen and their press. She deftly skewers both politics and the media in "The Life and Times of the Little Manuscript & Anonymous," which explores the twisting journey of a novel that calls the corrupt power brokers of a nation to account. In "The Elders," she sets up a debate in an Ethiopian expat community about where to bury one of their own--his homeland or his adopted country--told with humor and also deep sadness.
From the crowded streets of Addis Ababa to the basketball courts of Brooklyn, Hadero--who was born in Ethiopia and came to the U.S. as a child refugee--explores displacement, immigration, the plight of refugees and the deeply human longing for home and community. Told with fierce honesty and compassion, Madero's collection lives up to its title, providing a flavorful, nourishing feast. --Katie Noah Gibson, blogger at Cakes, Tea and Dreams
Shelf Talker: Debut Ethiopian American author Meron Hadero explores the nuances of immigration, displacement and building a home in a sharp-eyed collection of 15 short stories.