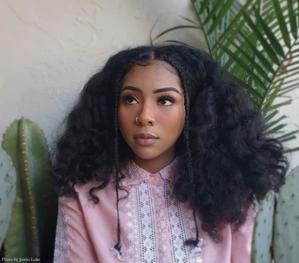 photo: Justin Luke
Kaylani Juanita is the illustrator of the Stonewall Book Award winner When Aidan Became a Brother by Kyle Lukoff. She is also the illustrator of Magnificent Homespun Brown by Samara Cole Doyon, A House for Every Bird by Megan Maynor and The Little Things by Christian Trimmer. Juanita's latest picture book, Mama and Mommy and Me in the Middle, by Nina LaCour (Candlewick Press) is a tender, inviting story about missing a parent.
On your nightstand now:
Raybearer by Jordan Ifueko.
Favorite book when you were a child:
Goodnight Moon by Margaret Wise Brown.
Your top five authors:
My top five authors and their books (in no particular order):
Raybearer by Jordan Ifueko
Bloodchild and Other Stories by Octavia Butler
Children of Blood and Bone by Tomi Adeyemi
Pet by Akwaeke Emezi
Big Kids by Michael Deforge
Book you've faked reading:
The majority of required reading for high school.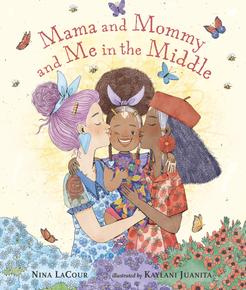 Book you're an evangelist for:
Raybearer. A lot of my answers are probably going to lead back to this book. I've even bought copies for family members.
Book you've bought for the cover:
When I was 14, I naively bought a reprint of Lolita by Vladimir Nabokov from Barnes & Noble because the cover was pretty and the name reminded me of the Japanese fashion Gothic Lolita. There's so much discourse behind controversial reprinted Lolita covers, and now I completely understand why!
Book you hid from your parents:
I never hid any YA novels as a kid. When I was a preteen, though, I had this comic titled Saber Marionette J by Satoru Akahori. It was rated 16+ for nudity and violence, and was very problematic--like, it takes place in the future where the only humans left are male, very binary with gender and all the women are femme-bots. I used to read it in secret, then I made my own non-canon fanfic comic about having a robot girlfriend.
Book that changed your life:
Love You Forever by Robert Munsch. My mom would read it to me all the time, and it really helped me grasp the idea of life and death in a very gentle way. After reading it, I would imagine myself and her getting older: I would get bigger, capable of holding her like how she held me; she would be little and feel taken care of when cradled in my arms. To this day I think about that book, especially now that I'm taller than my mom and getting close to my 30s.
Favorite line from a book:
"Uniformity is not unity. Silence is not peace." --Jordan Ifueko, Raybearer
Five books you'll never part with:
I can't choose! I'm trying to work on my picture book hoarding because I don't have limitless space.
Book you most want to read again for the first time:
Children of Blood and Bone by Tomi Adeyemi.