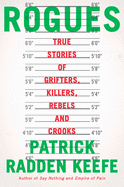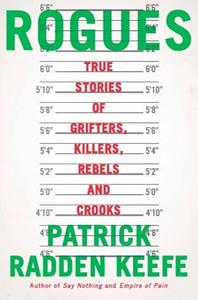 In Rogues: True Stories of Grifters, Killers, Rebels and Crooks, Patrick Radden Keefe collects a dozen thoroughly investigated and engagingly reported articles on a fascinating assortment of characters--from the merely colorful to the criminal--that he produced for the New Yorker between 2007 and 2018.
Long before the magazine published his first freelance piece, Keefe "came to think that at least where nonfiction was concerned, a big magazine article might be the most glorious form," and he provides strong evidence for that claim here. The breadth of his writing--insider trading in the pharmaceutical industry ("The Empire of Edge"); the dogged search for the last of the plotters who brought down Pan Am Flight 103 over Lockerbie, Scotland, in 1988 ("The Avenger"); the byzantine activities of a notorious international arms dealer ("The Prince of Marbella")--reveals the scope of his curiosity and his confidence that he can make these subjects both comprehensible and compelling.
Keefe (Say Nothing; Empire of Pain) isn't a flashy writer, but he's able to summon an arresting phrase at just the right time, as when he describes disembarking from a plane in Conakry, Guinea, a place where "the corruption hits you almost as quickly as the heat." Trusting the intelligence of his readers, he digs deeply into complex and often arcane topics. In "The Jefferson Bottles," for example, he chronicles Koch brother Bill's Ahab-like pursuit of a man who allegedly sold him half a million dollars' worth of counterfeit wine, and in "Buried Secrets," he describes the corrupt machinations of billionaire Israeli diamond merchant Beny Steinmetz in the business of mining iron ore in the impoverished African nation of Guinea.
Rogues also reveals Keefe's affinity for tales of heinous crimes. "A Loaded Gun" recounts the chilling story of Amy Bishop, a neurobiologist at the University of Alabama in Huntsville who murdered three of her colleagues after she was denied tenure, and of how that horrific event triggered a fresh investigation into her involvement in the death of her brother more than two decades earlier. Mexican drug lord Joaquín Guzmán Loera was so enamored of his profile ("The Hunt for El Chapo") that he tried to engage Keefe to ghostwrite his memoir.
Keefe brings the conventional celebrity profile to life in "Winning," the story of reality television pioneer Mark Burnett and the role The Apprentice played in Donald Trump's political rise, and in "Journeyman," a portrait of Anthony Bourdain, published barely a year before the noted chef and TV star's death by suicide. In these and all the other pieces in Rogues, Keefe painstakingly unearths and shares the details that render diverse true stories as engrossing as fiction. --Harvey Freedenberg, freelance reviewer
Shelf Talker: Prize-winning New Yorker staff writer Patrick Radden Keefe collects a dozen of his pieces for the magazine, showcasing a gallery of colorful and dangerous characters.