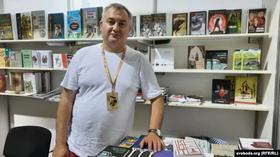 Andrey Yanushkevich
The International Publishers Association, the Federation of European Publishers and the European and International Booksellers Federation have strongly condemned the detention of Belarussian publisher and bookseller Andrey Yanushkevich and his associate Nasta Karnatska for selling copies of George Orwell's 1984. They were reportedly detained after they opened a general bookstore in Minsk and continued to sell copies of the novel, which was banned, along with other publications, on May 19.
Kristenn Einarsson, chair of the IPA's Freedom to Publish Committee, said: "We recognized independent Belarusian publishers in the 2021 IPA Prix Voltaire shortlist. We know that publishing and bookselling is so difficult in Belarus now and incidents like this will undoubtedly lead to self-censorship on the part of authors, publishers and booksellers. We continue to offer our support to all those publishers in Belarus who want to publish freely."
EIBF co-president Jean-Luc Treutenaere commented: "We are concerned by the reports of book-banning, bookshop searches and overall censorship coming from Belarus. We call on the full respect for the freedom to publish and sell books, and we stand firmly with the Belorussian, European and international publishing community against any form of censorship of the written word."
Peter Kraus vom Kleff, president of the Federation of European Publishers and CEO of the Börsenverein, said: "George Orwell's book 1984 denounces totalitarianism and mass surveillance. These are issues that, together with the role of truth and facts within politics and the ways in which they are manipulated, calls for increased consideration from politicians and society at large. No book, perhaps especially this one, should ever be banned. Freedom to publish and freedom to sell books are central to a democratic society."
---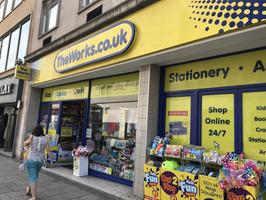 Nina Findley, commercial director of the Works, a discount retail chain selling gifts, arts, crafts, toys, books and stationery through more than 500 stores in the U.K. and Ireland, told the Bookseller that a recent change in strategy, including an expansion of its frontlist book ranges, is helping to build its "credibility and reputation" as a bookseller.
"It's really encouraging and exciting," she said. "We have a real role to play in the book market and I think publishers are supporting us with that and are keen to help us continue down that road."
There has been a focus on introducing a broad range of adult fiction in stores, including new and midlist titles, rather than relying on backlist offered as multibuy deals. For children's books, there is more of a focus on "evergreen titles," offering these at low prices or as part of bundles to encourage families to shop in store.
Looking ahead, Findley said, "I think we're a really open and welcoming brand and we really pride ourselves on trying to be as inclusive as we can, and I think there is more we can do there. We need to be showing diversity and making sure that customers in our stores are seeing an array of those different titles that recognise that life is not one way. This is something that the team are looking at to see what more they can do in that space."
---
A consortium of Dutch publishers is launching a subscription platform for digital books. The European & International Booksellers Federation's Newsflash reported that Fluister will feature a catalogue of audiobooks, e-books and podcasts accessible for €12.99 (about $13.70) per month.
"In the Netherlands, there is an appetite for reading and listening to books digitally," said Josja Zijlstra, director of Fluister. "But, until now, there hasn't been a model that was fair to the publishers, nor [have they been able to] receive user-habit data. We wanted a Dutch service created by the Dutch industry."
In addition to Dutch content, Fluister will also offer its subscribers an English-language catalogue. The platform is to be launched in June.
---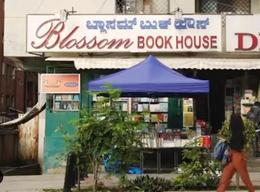 In India, 19 writers recently partnered for Bangalore Bookshop Love Weekend 2022. The Hindu reported that the event "is a celebration of brick-and-mortar bookshops by writers who care about the city's unique culture of reading and book shop-hopping." The writers "bid goodbye to Covid-19 by hitting the streets and talking about their favorite books, bookshops and bookshopping habits." Participating booksellers included The Bookhive, Blossom Book House, Goobe's Book Republic, Select Book Shop, Higginbotham's and Bookworm. --Robert Gray