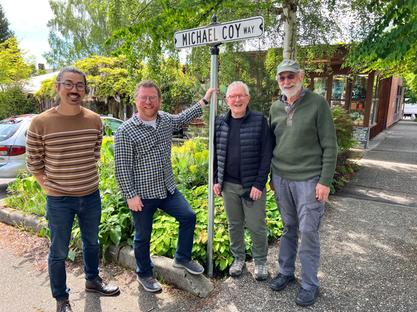 In honor of Michael Coy's 48-year career in bookselling, his contributions to the greater Seattle book community and his lasting impact as the manager at Third Place Books, Ravenna, Wash., Third Place Books has named its entrance to its Ravenna location "Michael Coy Way." A street sign bearing the Seattle bookselling legend's name has been permanently installed at the entrance to the Ravenna parking lot.
Coy opened the iconic Bailey Coy Books in Seattle with Barbara Bailey in 1981 and then opened and ran M Coy Books in Seattle from 1990 to 2009 (when the store lost its lease).
Third Place Books' managing partner Robert Sindelar recalled, "When I heard Michael's store lost its lease, we were in the midst of reinventing our Ravenna location. I knew it was a long shot, asking this bookselling legend if he'd want to work for someone else (me), but I had to ask. Lucky for me, Third Place Books and the Ravenna community, he said yes."
Coy managed Third Place Books Ravenna for 11 years until he retired in 2020, at the start of the Covid-19 pandemic.
Sindelar added, "We couldn't celebrate Michael's retirement properly at the time (for health and safety issues). So I was thrilled we were able to host a party recently for the Seattle book community to honor Michael and finally give him his retirement gift--his own street sign at the store he helped build."
Pictured: (l.-r.) Kalani Kapahua, current manager, Third Place Books, Ravenna; Robert Sindelar, managing partner, Third Place Books; Michael Coy, former manager, Third Place Books, Ravenna; and Ron Sher, founder of Third Place Books, celebrating the sign's unveiling yesterday.