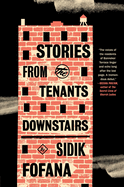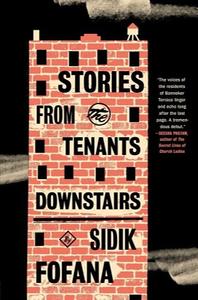 Stories from the Tenants Downstairs, Sidik Fofana's electric debut, consists of eight stories featuring eight residents of a low-income apartment building in Harlem where rents are rising and eviction notices are being posted by the score. These men and women struggle at the edge of making ends meet and cope by various means, including hard work, stiff upper lips, bluffing, bluster and despair.
Mimi runs a hair salon out of apartment 14D, spends beyond her means and dreams of a house in the suburbs with her son's father, Swan. Swan (6B) lives eight floors below, with his mother, marveling at the country's first Black president and wishing he could find his own way out of the hustle. Swan's mother, Ms. Dallas (6B), wrestles with her day job as a paraprofessional at the local public school, bemoaning the students' behavior, scorning the young do-gooder teachers and awaiting the school's looming closure. Two students from Ms. Dallas's school each feature in stories of their own. Kandese (3A) suffers losses upon losses, while her boyfriend, perennial follower Najee (24M), dreams of stardom but finds tragedy. Mimi's erstwhile assistant, Dary (12H), flirts with a darker line of work. Neisha (21J), a former aspiring Olympic gymnast, has quit college and returned home to the building, where she has to face a trauma that still haunts her. Old Mr. Murray (2E) just wants to play sidewalk chess in peace, but the old ladies of the Banneker Terrace Committee of Concern want to make him their cause.
These protagonists are all interconnected, whether they like it or not, by more than their address. Many have been lifelong residents of Banneker Terrace, and while some have fantasized about moving on, others wish only to stay in the home they know. Their stories take various points of view (first, second and third), mostly running to heavy vernacular and each brimming with voice, from Mimi's bravado to Najee's fumbled but earnest reporting: the seats on the 2 train are "faded... the scrapes on them wuz also scrapes on my heart." Fofana shows an ear for pacing and for evocative, frequently musical language. He expertly handles the structure of each story and of the collection as a whole, whose easy readability advances serious themes, including the challenges of poverty in its many iterations, gentrification, humor and hope and anguish.
This quickly shifting narrative introduces vibrant, appealing characters in brief but three-dimensional sketches, and paints a larger picture of existential efforts and persistence. Fofana's is a striking voice, and his protagonists will linger in readers' imaginations. --Julia Kastner, librarian and blogger at pagesofjulia
Shelf Talker: This linked collection portrays the human condition by way of the struggle to make rent in a Harlem high-rise, with a cast of memorable characters.