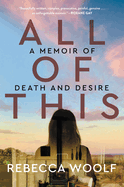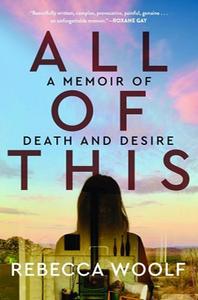 At the risk of speaking ill of the dead, Hal, the late husband of Rebecca Woolf (Rockabye: From Wild to Child), wasn't the nicest guy. This idea is at the center of All of This: A Memoir of Death and Desire, an unapologetic and unbridled account of the complicated grief felt by a widow who spent much of her marriage wanting a divorce. Asks Woolf in her introduction: "Is it more important to bury the truth of a dead man than to honor the truth of those who survived him?" Readers of All of This may well come to agree with Woolf that the answer is no.
Woolf met Hal, a musician and later a producer, in 2004, when she was 22. Four months of dating later, she was unintentionally pregnant. (Hal wasn't one for condoms.) Woolf and Hal married five months into the pregnancy, and they lived in Los Angeles until he died of pancreatic cancer 13 years later, at age 44.
Doctors came through with a diagnosis for Hal's cancer but apparently not for his anger management problem: he was "incapable of discretion when it came to rage," Woolf writes in All of This. There was no violence: "He never laid a finger on me--on any of us--but his anger became our invisible monster." That "any of us" includes Woolf's four kids with Hal, who refused to get a vasectomy even though her birth control method was wreaking havoc on her body. Oh, and Hal left it to Woolf to assume, by her accounting, "100 percent of the responsibility" when it came to meeting their babies' middle-of-the-night needs. Woolf threatened to leave Hal many times and writes that, finally, "our marriage was over, and we were trying to figure out how to successfully split as he played down the dull pain in his lower abdomen." Four months after his diagnosis, he was dead.
All of This has a loose structure, bouncing from scenes of Hal's decline to the couple's early days together to Woolf's history of appeasing men to her return to the dating world a few months after she's widowed. The book will surely offer succor to anyone who has gone through a significant loss but especially to those who can admit that the death afforded a release. As Woolf confided in her cousin, "I didn't want him to die but I'm so relieved he isn't here...." --Nell Beram, author and freelance writer
Shelf Talker: In this unapologetic and unbridled memoir, the author writes of her complicated grief response to the death of her husband, a man she spent years wanting to divorce.