During the second day of Children's Institute 10 in Phoenix, Ariz., booksellers gathered to discuss their approaches to community partnerships. Panelists were Lupe Penn, youth and schools manager at Bookmarks in Winston-Salem, N.C.; Laurie Gillman, owner of East City Bookshop in Washington, D.C.; and Verlean Singletary, owner of Da Book Joint in Chicago, Ill; Jennifer Kraar, children's bookseller and buyer at City of Asylum Books in Pittsburgh, Pa., moderated.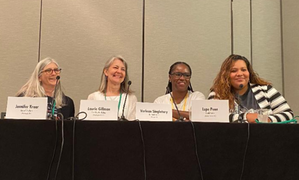 From left: Jennifer Kraar, Laurie Gillman, Verlean Singletary, Lupe Penn.
Penn reported that Bookmarks recently revamped its children's storytime program. The sessions used to be held every Saturday, and while some were "huge," others drew far smaller groups. Both options were great, Penn said, but the Bookmarks team felt that it "diluted the event." They refocused the storytime program by making sure every session had a community partner. The initial partner was the local police department, which has a literacy initiative that includes a book and ice cream truck called SweetReads; some 150 people attended. Bookmarks has also done storytime sessions with the parks and recreation department of Winston-Salem and a local Pride organization for a Drag Queen Story Time.
Remarking on establishing partnerships, Singletary encouraged booksellers to "talk your store up" as often as possible. Those conversations can lead to some surprising connections, and a lot of valuable community partnerships can start through word of mouth. Singletary, whose store is located in Chicago, said getting connected with big school systems can sometimes be a lot of work. Becoming an approved vendor with Chicago Public Schools was a lengthy process that involved having a recommendation from a school. Singletary recommended booksellers just "suck it up and get on the phone," and advised against sending e-mails, as they are "never answered."
Gillman emphasized that partnerships and events that might work in one community might "never happen in another." She pointed out that sometimes partnerships and events don't work out, but even in those instances booksellers are still forming relationships in their community. She and her team are "constantly trying" new things, as long as the events don't take so much time that it detracts from the "actual business" of the bookstore. If an idea is relatively easy, doesn't take a ton of staff time and makes someone else's job or life or mission easier, "of course we'll do that."
Kraar, meanwhile, brought up the importance of researching and vetting potential partnerships. Sometimes the best way to do that is through word of mouth and asking community members about a business or organization. Kraar brought up an incident in Pittsburgh where City of Asylum and other local bookstores pulled out of a partnership with a group that was "not being inclusive." It would have been good for the store financially, but then, "Who are we?"
All of the panelists were in agreement that booksellers need to be better about bragging about their stores. Penn mentioned that when Bookmarks does something beneficial in the community, such as donating the age-appropriate versions of How to Be an Anti-Racist to every public library and school library in the bookstore's county, they post about it in the store. It helps customers understand that the bookstore isn't just a place to buy books. Penn suggested using small signs similar to shelf-talkers to display information such as the number of books that the store donated the previous year.
They also noted that partnerships can take different forms. Booksellers, for example, don't always have to go into the schools. Instead they can bring the schools to them by doing things like hosting educator nights at their bookstores. And during the session's q&a portion, they suggested reaching out not just to schools and hospitals but also to local nonprofit groups, library associations and long-term care facilities. --Alex Mutter