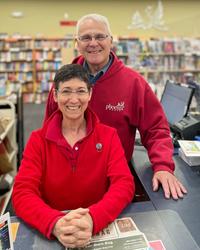 Michael DeSanto and Renee Reiner
Michael DeSanto and Renee Reiner have been chosen as the joint recipients of the 2022 Bookstock Vermont Literary Inspiration Award for their "outstanding inspiration to the literary prosperity and traditions of Vermont."
For more than two decades, Desanto and Reiner "have been a vital force in community bookstores in Vermont," the Mountain Times reported. "The couple entered the Vermont bookstore scene in 1995 with their ownership of Chittenden County's former Book Rack and Children's Pages bookstore. They founded Phoenix Books in Essex in 2007 and opened Phoenix Books in Burlington in 2012. The couple then opened Phoenix Books Rutland in 2015, and Brandon in 2019.
"In 2016, they purchased the Yankee Bookshop in Woodstock, thereby ensuring the life of the longest continuously open bookstore in Vermont. The Yankee Bookshop was a co-founder of Bookstock in 2009 and continues to play an essential role in our annual festival. Onion River Press, founded by Desanto, Reiner and Phoenix Books, is a publishing service for local authors, another expression of their dedication to the literary flourishing of our state."
Bookstock co-founder and board chair Peter Rousmaniere said: "Michael and Renee really see the importance and potential of community bookstores and so design custom plans for each of their 'family' member stores to flourish. Each of their six stores is a beloved gathering place for local book lovers, and they actively support regional and national authors. The rich literary life of our state is strengthened and enhanced by Michael and Renee's special entrepreneurial gifts."
DeSanto commented: "Renee and I are so surprised to be so honored. We love Woodstock, we adore the Yankee Bookshop and absolutely cherish our partners, Kari Meutsch and Kristian Preylowski there. We are very excited to visit Woodstock to be recognized. On behalf of our partners in Rutland and Brandon, and our 40 booksellers we are grateful and thankful."