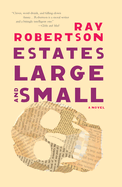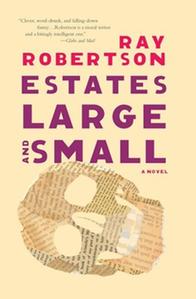 The life of a middle-aged used bookseller in Toronto might not sound like promising fictional material, but in Estates Large and Small, Canadian novelist and critic Ray Robertson provides a warmhearted and unconventional love story that's also an opportunity for a gentle encounter with some of life's fundamental questions.
After a rent increase and the complications of commerce in the time of covid-19 force Phil Cooper to close his physical bookstore, he moves his inventory of 10,000 books online. When he's not anxiously checking his new website for orders, he's often visiting Toronto homes where survivors are anxious to dispose of a departed loved one's book collection. It's on one of these excursions that Phil meets Caroline, a well-educated, retired mail carrier who loves gardening and jazz and who possesses a library she wants to sell. In her case, however, the motive for that sale isn't the passing of a spouse or aged parent, it's a terminal cancer diagnosis. The chemistry between the pair, both of whom bear their share of scars from more than five decades of life as singles, is nearly instantaneous.
Phil, an autodidact whose formal education ended with high school, invites Caroline to join him on a project he'd already begun as a solo quest--a survey of 2,500 years of Western philosophy. Through months of red wine- and cannabis-infused evenings, their relationship deepens as they swap their impressions of thinkers from Socrates to Nietzsche, reflecting, at some times more directly than others, what's involved in living a meaningful life, especially when the time to answer that question is rapidly growing shorter. Phil also takes the opportunity to introduce Caroline to one of his passions--the Grateful Dead, and specifically Jerry Garcia--whose guitar, Phil tells her, "will hook me up to the infinite and take me for an extraterrestrial joy ride."
Death is one of Phil's frequent traveling companions. With cash in hand, his approach is all business, but beneath the surface of these commercial transactions, he appreciates the poignancy of disposing of these lovingly curated libraries for a handful of bills. Robertson majored in philosophy at the University of Toronto, and has written a nonfiction book about death (How to Die: A Book About Being Alive), so it's not surprising these subjects would be ones he'd want to tackle in his fiction. With Phil's droll humor and world-weary cynicism, and Caroline's clear-eyed determination to live her final days on her own terms, the two make for an appealing couple. Like the philosophers they encounter, Estates Large and Small only hints at answers to life's deepest mysteries, but it's a wise reminder that the journey is really the point. --Harvey Freedenberg, freelance reviewer
Shelf Talker: Warmhearted and droll, a pair of middle-aged Canadian lovers turn to the great philosophers and Jerry Garcia to help them confront life's existential questions.