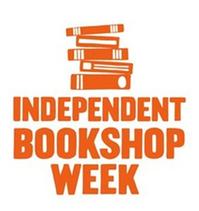 "Independent Bookshop Week is here at last and everyone in Team B is excited for some bookish fun," Mr. B's Emporium of Reading Delights in Bath, noted in the shop's latest newsletter, adding: "Stay tuned all week to our Instagram, TikTok, Facebook and Twitter for bookseller insights, our favorite indie bookshops, and recommendations, as well as our usual buffoonery!"
IBW is indeed in full swing in the U.K. Launched in 2006 by the Booksellers Association and a part of the Books Are My Bag campaign, the festivities highlight the vital role Indies play in their communities.
As it happens, just before writing this column I stumbled upon a July 2006 Guardian piece written by Nic Bottomley, co-founder of Mr. B's Emporium, which had just opened. Discussing the store's name, he wrote: "And yes, I suppose I'm Mr B, although in my head he is an anonymous cane-wielding philanthropic book collector who searches the world for great books for our customers while the shop is manned by his faithful assistant the Book Monkey (the character on our logo). Actually, I suppose that makes me the monkey."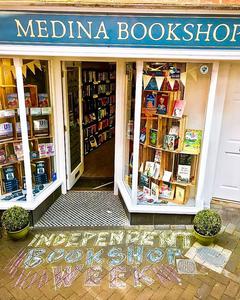 At Medina Bookshop in Cowes
Sometimes "celebrating" independent bookstores is serious business (indies battling Amazon, Covid, inflation, supply chains, VATs, censorship, indifference etc.). And that's important. Through The Wardrobe Books, Mirfield posted from the heart: "So this week is #indiebookshopweek! To celebrate I'll be dropping special offers, giveaways and reasons to choose to shop with us on here all week!! I've written this post out a hundred times with all the reasons it's harder than ever to keep this place ticking over during these incredibly tough financial times... but honestly, all that really needs to be said is that I am grateful to YOU for keeping me here doing what I love, and maybe that's what I'll focus on this week!!"
Equally important is the fun, and occasional goofiness, that makes campaigns like IBW tick, as in this brief sampling of #IndieBookshopWeek social media posts: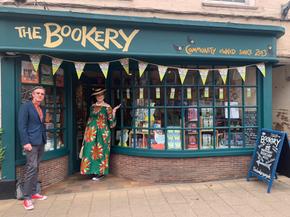 At The Bookery, Crediton
The Book Hive, Norwich: "Independent Bookshop Week continues apace here in the shop--as Henry here is trying to say, we've taken it so seriously that we've declared ourselves an independent state! Yes, we're teaming with one of our favorite indie presses And Other Stories to celebrate the launch of @jessi.jstevens wonderful new novel The Visitors by declaring ourselves a 'gnome-man's land.' But we need your help! Drop into the shop and pen a policy for our nascent utopia, and the ones that are chosen for our charter will win a bulging sackful of And Other Stories swag. The fate of our land is in your hands!"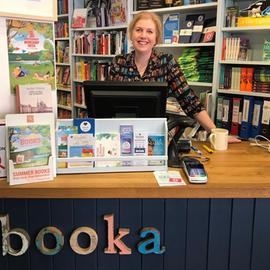 Clare Mackintosh at Booka Bookshop
Author Clare Mackintosh at Booka Bookshop, Oswestry: "I got to be a bookseller for the day! Huge thanks to @bookabookshop for letting me play shop for the day."
Chapter One Loftus: "On Friday... as part of #independentbookshopweek author Matson Taylor will be taking over the running of the shop!! Now Matson thinks it's just sitting around drinking coffee and eating cakes from @willowcakeshop and playing with the till (he's probably right) but why not stop by and challenge his knowledge, watch him use the till, buy a copy of his book or just have a chat."
Author Joanna Cannon: "A little film of my trip to Bert's Books [Swindon] to be a bookseller for the day, and celebrate #IndieBookshopWeek! Supporting your local bookshop is even more important now than it's ever been. And why wouldn't you? Not only is it a wonderful place to buy your books (and get the best recommendations), it's a valuable space for community, joy, laughter, friendship and hope. In a landscape where those things often seem in very short supply, we should treasure these magical places. Plus, if you ever find yourself in Swindon, you must visit Bert's. Not only do they have an EPIC selection of they do the best ribbon (which I learned to tie in the video, double chin levels of concentration right there."
Poet Hollie McNish: "I LOVE bookshops. They smell of stories. Here is my love letter to them, for #IndieBookshopWeek @booksaremybag. Filmed in the gorgeous @NOALIBISBOOKS Belfast."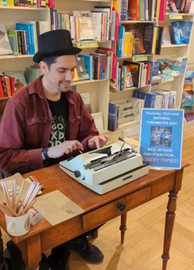 At RIAS Bookshop
RIAS Bookshop, Edinburgh, Scotland: "It's a glorious day at the RIAS Bookshop today as we celebrate #NationalTypewriterDay with Street Typist @KrishanCoupland. Think of a word/topic and pop in on your lunch break to pick up your own poem!"
Storyville Books, Pontypridd, Wales: "We've already had some brilliant creations at our #CreationStation! Pop in today and get involved. There are activities for all ages!"
Sevenoaks Bookshop, Sevenoaks: "A huge thank you to both Alyson at @thatsnotmyage and @clairepeppep for the feature on the amazing 'That's Not My Age' in celebration of Independent Bookshop Week. The link is in our bio to read all about [owner] Fleur [Sinclair]'s summer reading recommendations, style inspiration and more!"
Let's end back in 2006, with Nic Bottomley recalling a conversation that led him and his wife to make the life-altering decision to become indie booksellers:
"It was something we decided during our honeymoon, on the balcony of an Alaskan B&B. 'Why don't we,' I suggested, 'try doing something that we're really interested in? We could create a fabulous bookshop like that one in Seattle....'
" 'Well,' said Juliette, 'why don't we?' And that was that."