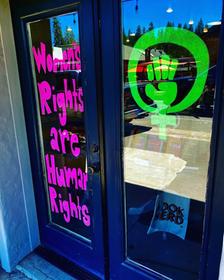 At Books on Main.
Many independent bookstores quickly created displays as part of the widespread protests against the U.S. Supreme Court's decision overturning Roe v. Wade on Friday, including:
Whitelam Books, Reading, Mass.: "THIS is how we're feeling at the bookstore today. People often turn to books, and our store, as a place to process grief, loss, and sometimes rage. If you need a refuge today, we are happy to provide it."
Books on Main, Murphy, Calif.: "Nice work Brenna! Loved coming in to work and seeing this on the windows."
Wicked Good Books, Salem, Mass.: "Our front window display today."
Newtonville Books, Newton, Mass.: "Bodies on the Line. The Handmaid's Tale. The Testaments. Octavia Butler. Definite mood."