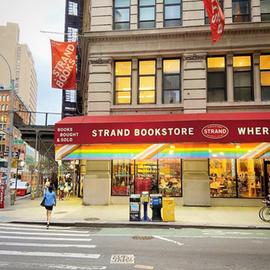 Congratulations to the Strand Book Store, New York, N.Y., which celebrated its 95th anniversary on Saturday by opening a coffee shop that features the Brooklyn Roasting Company. "Strand Day" also included "fun, goodies & giveaways" at the Strand's flagship and Upper West Side locations and discounts online.
Strand COO Laura Ravo said, "Bringing coffee to our customers has been a long-time dream for the Strand. When we made the decision to add it to our store, we sought to bring customers the most authentic coffee experience and Brooklyn Roasting Company fit that vision perfectly. Furthermore, Brooklyn Roasting Company shares many of the Strand's principles. They deliver a quality product, care about the New York and provide excellent customer service; while giving back through conscientious charitable contributions to further the arts, literature and music in our city."
Jim Munson, Brooklyn Roasting Company founder and CEO, said, "I've enjoyed drinking coffee and reading books for most of my life. It only makes sense to embrace a partnership between the coffee company I've built and my favorite New York City independent bookseller, the Strand. Both coffee and books feed the life of the mind, and the lives of so many thoughtful New Yorkers. Our sustainably-sourced coffees mirror the Strand's customer base with a wide range of rich and diverse flavor palettes, presented to customers unpretentiously."