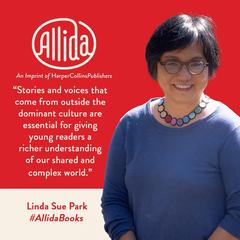 HarperCollins Children's Books is launching Allida, a new imprint at Clarion Books headed by YA author Linda Sue Park and Clarion Books v-p and editorial director Anne Hoppe. Named for the Korean word that means to inform, announce, or make known, Allida will publish books for children and teens that "encourage marginalized writers and artists to explore the stories they are most passionate about and to craft narratives that defy expectations."
The first title from Allida, to be published in March 2023, is You Are Here: Connecting Flights, a middle-grade exploration of contemporary Asian American identity told through interwoven stories set in a busy Chicago airport, written by 12 East and Southeast Asian American authors, and edited by We Need Diverse Books co-founder Ellen Oh. In the book, an incident at a security checkpoint sows chaos and rumors, creating a chain of events that affects 12 young Asian Americans at the airport. The interconnected stories are written by Traci Chee, Mike Chen, Meredith Ireland, Mike Jung, Erin Entrada Kelly, Minh Lê, Grace Lin, Ellen Oh, Linda Sue Park, Randy Ribay, Christina Soontornvat and Susan Tan. The authors will collectively make a donation of $5,000 to StopAAPIHate.org, which HarperCollins Children's Books will match.
Other planned titles are two debuts: An Impossible Thing to Say, a YA novel-in-verse by playwright and rapper Arya Shahi that explores ties between identity and language as an Iranian American teenager comes of age against a backdrop of 9/11, and Secrets, a middle-grade graphic novel from Cindy Chang, in which a Taiwanese American sixth grader contends with family secrets while striving to find her voice as an artist.
Linda Sue Park won the Newbery Medal for A Single Shard, and her A Long Walk to Water has some more than three million copies. HarperCollins said that Allida's emphasis on creator-led stories mirrors Park's own journey as an author. "Over a 20-year-plus career, she has written picture books, novels, poetry, and prose, in contemporary, historical, and fantasy settings. Her protagonists often share her Korean American ethnicity, but not always, and her focus has been to write on subjects about which she cares deeply. The resulting books have consistently earned critical acclaim and commercial success, and are fiercely adored by readers."
Park commented: "I want Allida to be creator-centered, because I feel strongly that when artists are supported in making work from their deepest passions, kids get better books. Stories and voices that come from outside the dominant culture are essential for giving young readers a richer understanding of our shared and complex world. With Allida, we have the exhilarating opportunity to build on the hard-won inclusion work of past visionaries by freeing artists from any content expectations other than good writing and great stories."
Hoppe commented: "A seminal force in children's books, Linda Sue has been called everything from an icon to an institution, and working with her is a consistent honor, inspiration, and joy. An acknowledged champion of fellow authors, Linda Sue's vision extends to increasing equity and inclusion on both sides of the publishing desk, and I am excited to partner with her at Allida to work with creators and colleagues who contribute a diverse range of experiences and perspectives. Especially at this time, as exciting gains in inclusive representation are challenged by fierce backlash, dedicated efforts to nurture and promote voices that have traditionally been marginalized or pigeonholed are vital."