On Thursday, June 23, the American Library Association kicked off its first in-person conference since January of 2020. ALA President Patricia "Patty" Wong opened the Washington, D.C., event and show floor with a conversation with FCC Chairwoman Jessica Rosenworcel.
The weekend's events included more book signings, galley giveaways, sessions and meetings for librarians and a party to celebrate the 100th anniversary of the John Newbery Medal. At the anniversary party, children's book historian Leonard Marcus spoke about the 100 years' worth of Newbery Medal winning books. Author Steve Sheinkin and librarian Stacey Rattner held a live, in-person, Newbery version of their YouTube game show, Author-Fan Face-Off, in which fans compete against authors to see who knows the book better: the fan or the person who wrote the book.
Children's book historian, author and critic Leonard Marcus spoke to the assembled Newbery 100 crowd about 100 years of Newbery-winning books.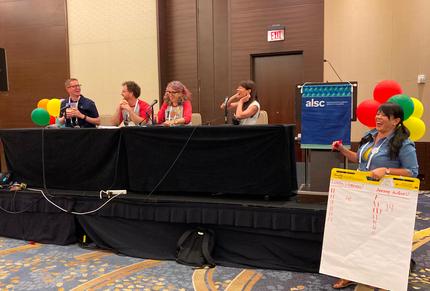 Librarian and author John Schu (far left) competed in Steve Sheinkin and Stacey Rattner's (center) Newbery Author-Fan Face-Off against Christina Soontornvat (right) about her 2021 Newbery Honor book A Wish in the Dark (Candlewick). 2018 Newbery medal-winner Erin Entrada Kelly (Hello, Universe) kept score at the far right.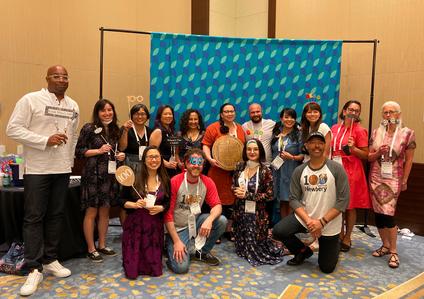 Fifteen Newbery Medalists and Honorees attended the Newbery 100 event to both celebrate the anniversary and defend their knowledge of their own books.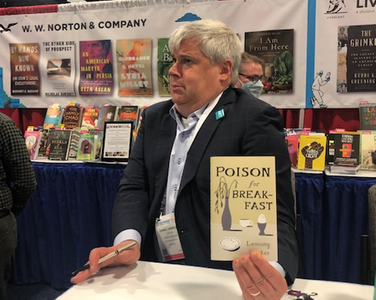 Daniel Handler, aka Lemony Snicket, signed
Poison for Breakfast
(Liveright). Handler awards the annual Lemony Snicket Prize for Noble Librarians Faced with Adversity, consisting off $10,000 "along with an odd, symbolic object from Snicket's private stash, and a certificate."