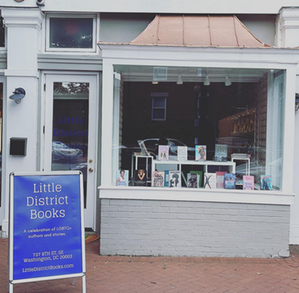 Little District Books, a 300-square-foot bookstore with a focus on LGBTQ+ authors and stories, has officially opened in Washington, D.C. The store is located in D.C.'s Barracks Row Main Street, which is home to a number of other queer-owned businesses.
"I wanted to create the bookstore I needed when I was younger," said owner Patrick Kern. He noted that many general-interest bookstores will carry a few titles by authors like T.J. Klune or V.E. Schwab, but those authors "have large catalogs of great stories most people don't know about."
He hopes to carry as many of those titles as he can, and before long he plans to expand the store by another 500 square feet, when he converts a storage area into additional selling space. Kern has already started hosting events in partnership with a nearby queer cafe and bar called As You Are, and he has more events in the planning stage.
The store is currently open five days per week, and he will launch the bookstore's online shop in July.