Last week at Children's Institute 10 in Phoenix, Ariz., four booksellers from around the country shared their experiences and best practices hosting book fairs both in-person and online.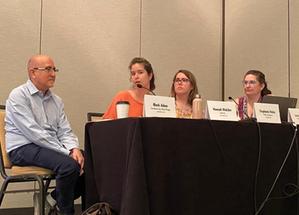 Left to right: Mark Adam, Hannah Walcher, Stephanie Heinz and Jessica Hahl
Panelists were Mark Adam, book buyer and manager at San Marino Toy & Book Shoppe in San Marino, Calif.; Hannah Walcher, children's events & book fair manager at Books Inc. in Northern California; and Stephanie Heinz, children's buyer and community coordinator at Print: A Bookstore in Portland, Maine. Jessica Hahl, events and marketing coordinator at Country Bookshelf in Bozeman, Mont., was moderator.
The panelists had experience hosting book fairs both on-site, typically at schools, and in-store, as well as working with virtual and hybrid models. Adam, who had prior experience with a private book fair company, noted that his bookstore began by doing in-store fairs, which generally didn't involve as much work as on-site events "except for the preordering." In terms of success, in-store book fairs involving schools closest to the bookstore did best, and hosting an event in conjunction with the book fair was "very successful." On-site school book fairs, he added, are typically more labor intensive but sales tend to be higher.
Walcher said she inherited Books Inc.'s large book fair program in fall 2019, which was suddenly "wiped clean" with the pandemic. The program went virtual and Walcher ran online book fairs through the store's website, making use of the coupon code feature on IndieCommerce. Now the program is back to being 98% in-person, large-scale, on-site events. She noted that historically Books Inc. had used Wordstock as its POS for those events; this summer it will transition to Ibid/ie.
Heinz remarked that she's done in-store, in-school, virtual and hybrid events since she became Print's children's manager around 2016. She's essentially been "making things up as I went along" on a school-by-school basis, talking to individual schools and seeing what would work best for them. That flexibility, she pointed out, is perhaps the "biggest benefit" indies can provide compared to the larger book fair companies and, in her experience, school librarians are very glad to have alternatives.
Hahl reported that Country Bookshelf does "all of the types" of book fairs. There are three schools within walking distance of the bookstore, and the shop serves the broader county as well. Though it can be daunting sometimes to try to put together enough books to "fill a school" for an on-site fair, Country Bookshelf has an "embarrassment of riches" in terms of square footage and tries to shop its own shelves whenever possible.
Turning to time savers and valuable resources, the panelists noted that in-store, on-site and virtual fairs all have different needs. Adams said Square readers are "so helpful" for on-site fairs, as they allow him to see what's selling in real time; in the "olden days," he would have to write down everything and then go through the fair counting what sold. This way "saves so much time."
Speakers agreed on the value of Edelweiss tags, with Hahl saying it "cuts down on labor for on-site fairs." Heinz said she uses "so many tags" to sort titles for book fairs, building very specific lists pertaining to individual schools, as well as lists of diverse books, books at particular price points and books for different age levels. She has ready-made lists of all those books, and can easily "pull that tag" when necessary.
The panelists stressed the importance of keeping records and tracking book fair data. Hahl acknowledged that while it can feel "feel labor intensive at the beginning," it saves a great deal of time later on, as you simply "work your system." Heinz agreed that documenting everything you're doing does take a lot of time initially, but you end up building a "handbook for yourself" that you can use for subsequent fairs. (They also shared book fair spreadsheets that will be available for ABA members on bookweb.org.)
Walcher said Books Inc. has book fair files "going back to 2014," and there is a recap form that staff fill out after every fair. It includes that year's sales, previous years' sales if the store worked with that school before, whether there was an author visit, and any other comments, positive or negative. She'll note if working with a given school was a breeze, for example, or that one school "made my volunteer coordinator cry."
She was also a major proponent of contracts, explaining that Books Inc. uses a contract for every book fair, no matter the location or whether it is online, in-person or a hybrid event. While contracts can seem intimidating and corporate, they "make sure the event happens," and clearly spell out from the beginning what the store is responsible for and what the school is expected to provide. The contract also clearly breaks down the book fair's financial terms.
Elaborating on contracts, Heinz said they can include stipulations that a store won't do a book fair if it's not inclusive or if the book fair partner wants to feature harmful books. As such, they can be a part of "your mission as a bookstore." --Alex Mutter