Indie booksellers continue to raise their collective voices in protest against the U.S. Supreme Court's decision to overturn Roe v. Wade. Bookshops are featuring statements and photos of store displays on their social media pages, including: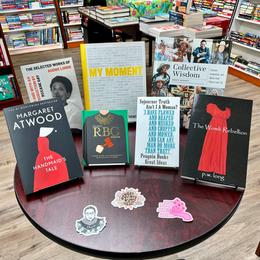 At Copperfish Books
Copperfish Books, Punta Gorda, Fla.: "Ours is a business run by women who believe that choosing your own destiny and having power over your own body is a human right. The Supreme Court's decision on June 24th hit us hard. As a bookstore, we do what book people do: we turn to books and conversation to help us understand and respond. Maybe you do, too. Please know that we are here for you whether you're seeking educational non-fiction, relevant fiction, or a much needed escape; we'd be honored to help you find the books you need."
Inquiring Minds Coffee House and Bookstore, Saugerties, N.Y.: " 'Reproductive freedom is critical to a whole range of issues. If we can't take charge of this most personal aspect of our lives, we can't take care of anything. It should not be seen as a privilege or as a benefit, but as a fundamental human right.' --Faye Wattleton. It's easy to feel angry and helpless. We, along with millions, are lamenting what feels like the loss of years of labor, work and activism by our foremothers. But the work starts again. Stop by to think, to grieve, and to learn so that we may act once more. We also have 'Truth' pins for sale made by beloved artist Mary Frank--all proceeds go to Planned Parenthood."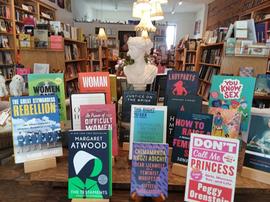 At Left Bank Books
Left Bank Books, Belfast, Maine: "You know."
Lion's Mouth Bookstore, Green Bay, Wis.: "It's a tough day, yet we keep pushing on--doing what we can to effect change and help to usher in progress, while offering a bit of light in the wake of so much darkness. Sorry for the feelings post, but I know many, if not all of you get it. The 2 items shown in the photo arrived today from their small business makers. The timeliness of their deliveries is not lost on us. 100% of the proceeds from the Ukraine candle goes directly to the Razom for Ukraine. The magnet is a meant to serve as a reminder or a mantra to focus on when the darkness becomes too much. And thank you for supporting small."