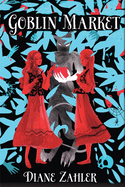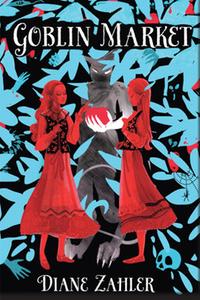 Goblin Market is a delightfully imaginative story about the unbreakable bond between two sisters, one who unknowingly falls in love with a goblin, and the other who is driven to save her.
Sisters Lizzie and Minka are extremely close despite being very different: vivacious and outgoing Minka enjoys going into town to sell the family's bread and vegetables; quiet and introspective Lizzie, for whom "each sound [is] a color," prefers to stay near home. One day, when Minka comes home from the market, Lizzie immediately notices that her words are "a little brighter than usual." Apparently Minka met "the handsomest boy," who gave her a "gorgeous" piece of fruit. The next week Minka gives a lock of hair to the boy, Emil, in exchange for more fruit, then develops a fever. By evening, her hair turns gray and falls out. Delirious, Minka begs Lizzie for more fruit.
Lizzie reluctantly agrees to go to town on the next market day. She hopes to find Emil and bring Minka the fruit she desperately craves. But when Lizzie finds Emil, she's disturbed to realize that, unlike everyone else, his words have "no color at all." Soon after, Minka falls into a comatose state. Lizzie goes back to town accompanied by steadfast, cheerful neighbor Jakob. They confront Emil, who tells them he has promised Minka "her heart's desire." But Jakob can't see Minka's suitor, and Lizzie notices flickers of "something quite different standing in his place." Lizzie and Jakob realize that Emil is a zdusze, a forest goblin out of a children's story, and when Minka disappears, the children plunge into the dark Wood to save her. Ultimately, it's only when Lizzie figures out what she has, and the zdusze does not, that she can save her sister.
Diane Zahler (Baker's Magic) spins a terrifically timeless upper-middle-grade story of sisterly love, goblin magic and overstepped boundaries, inspired by Christina Rossetti's poem "Goblin Market." Her lush language describes a fully realized fairy tale world, wherein Lizzie and Minka's cozy cottage at the edge of the Wood sets off the creepy, menacing realm of the goblins hidden within. Though Minka is the love interest--the author wisely points out and then expunges the blame associated with her victimization--this is Lizzie's story from start to finish. Her indomitable spirit and unusual abilities allow her to shine. Share this book with anyone who loves their stories located in far off lands potentially inhabited by monsters. --Lynn Becker, reviewer, blogger, and children's book author
Shelf Talker: Goblin Market is a splendid, folklore-inspired story of sisterly affection in which one sister falls in love with a goblin and the other must save her.