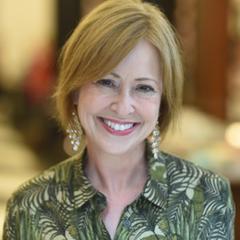 Janet Harris
After 37 years at Workman Publishing, Janet Harris has retired. She was most recently publisher of calendars, and has been succeeded by Page Edmunds.
Harris was hired by Peter Workman in 1985 as gift sales manager, expanding that side of the business by developing merchandising programs selling books, calendars and more to warehouse clubs, Walmart, K-Mart, Sears and Montgomery Ward. Eleven years later she became Workman's first director of all sales, with trade and gift channels reporting to her. In 2000, Harris took on the role of publisher at WP imprint Storey Publishing, a position she held for the next four years.
In 2004, Harris returned to Workman, where she became the first calendar publisher, and, soon thereafter, publisher of Brain Quest, another new position at the company. Among the highlights of her tenure is the partnership she created with the Chrysler brand Town & Country to mark Brain Quest's 20th anniversary. Eventually she focused on just calendars.
Page Edmunds
Harris said, "It has been a privilege to be a part of this marvelous, quirky family that Peter and Carolan Workman created, and to watch this company succeed and grow firsthand. I've been fortunate to have many varied roles that challenged my strengths and creativity, but the greatest pleasure of all has been to work alongside my passionate colleagues, as well as with the buyers who care so much about our business. I will miss the books, calendars--and especially the people--enormously."
Dan Reynolds, senior v-p and publisher of Workman Publishing, commented: "Janet has that special ability to be relentless about elevating all that she works on to a special place. She knows how to create product that is smart and joyful, and it is quite inspiring to watch her sell and communicate that to our accounts and our customers. All of us at Workman are extremely grateful for the legacy she has created and left behind."