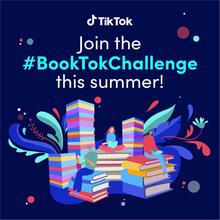 TikTok and Barnes & Noble have launched the #BookTokChallenge, a partnership aimed at driving customers to a new, dedicated #booktok hub on TikTok and to B&N's online and physical stores. From today, June 29, to August 31, readers will be encouraged to discover and read new books and authors and then share their reactions on TikTok with the hashtag #BookTokChallenge.
B&N will roll out QR codes in-store that will take readers to the #booktok hub. The hub will be accessible in-app, and a number of well-known BookTok creators will be involved with the partnership as well.
"The #BookTok community has been such a driving medium in discovering favorite paperbacks and bringing worthy titles back to the forefront of customers' minds," said Michele Laikowski, B&N's head of social media. "Helping more readers enjoy good books is key to Barnes & Noble's purpose, and when you pair our local bookseller recommendations with #BookTok recommended reads, any reader can consider their summer plans booked."