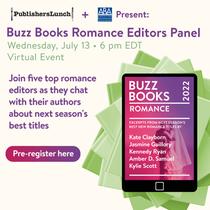 Publishers Lunch and the American Booksellers Association are hosting a virtual Buzz Books Romance Editors Panel at 6 p.m. Eastern on Wednesday, July 13.
Authors Jasmine Guillory (Drunk on Love, Berkley), Kennedy Ryan (Before I Let Go, Forever), Amber D. Samuel (The Many Dates of Indigo, W by Wattpad Books), Kate Clayborn (Georgie, All Along) and Kylie Scott (End of Story, Graydon House) will discuss their upcoming books with their respective editors.
Registration is free, and booksellers can find excerpts of the featured titles here.