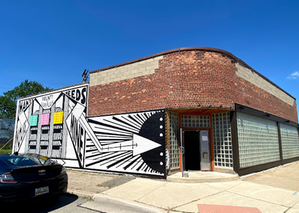 27th Letter Books, Detroit, Mich., which debuted as a pop-up shop and online store before opening in a permanent space last summer, has launched a $35,000 GoFundMe campaign due to the effects of a recent cyber scam.
"Without community support, 27th Letter Books is facing the devastating possibility of immediate closure," co-owners Jazmine Cooper, Erin Pineda, Jake Spease and Drew Pineda noted on the GoFundMe page. "Since starting as a pop-up in June of 2019, our business has overcome numerous challenges with resilience. Our biggest dream is to keep serving you--our community--with excellent book recommendations and a creative gathering space, but we are in a precarious position....
"This year our store fell victim to an aggressive cyber scam leaving us to directly cover over $35,000 in losses. Law enforcement has expressed our chances of recovering any funds via a criminal investigation are extremely low. Furthermore, our business insurance will not cover any of this extraordinary loss.

"Since uncovering this fraud, we have re-evaluated and improved our procedures to prevent further victimization, but without community support, we are facing the devastating possibility of immediate closure." As of this morning, the campaign had raised more than $25,000.