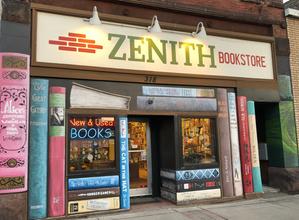 Congratulations to Zenith Bookstore in Duluth, Minn., which is turning five years old tomorrow, July 1. Co-owners Angel and Bob Dobrow and their team will celebrate with an outdoor party in the afternoon, featuring chalk art, a prize wheel, live music, a crafts table and a bookish yoga class. A local food truck called the Rambler will be on hand, and customers who wear a Zenith T-shirt or bring a Zenith tote bag will receive 10% off their purchases.
The bookstore is also raffling a signed first-edition copy of Maya Angelou's Wouldn't Take Nothing for My Journey Now. Raffle tickets have been on sale for $5 each since the beginning of the month, and the store will announce the winner during tomorrow's celebration. All proceeds will go to PAVSA, Program for Aid to Victims of Sexual Assault. Additionally, Zenith will be donating 10% of all sales on Friday to PAVSA.
"Words cannot express our gratitude for how you, and the people of Duluth, have supported us these past years," the Dobrows wrote in a letter to customers. They've put together a video of "5 Years of Memories" that can be viewed here. The event is free and open to the public.