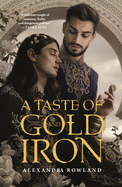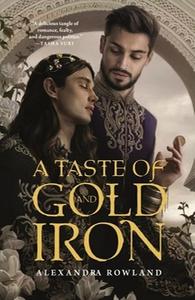 Alexandra Rowland (A Conspiracy of Truths) strikes the perfect balance of political intrigue and romance in A Taste of Gold and Iron, a lush, Ottoman-inspired fantasy with sweeping emotions and prose worth savoring.
Excited about the birth of his niece, Prince Kadou tries to ignore the casual cruelties of his niece's body-father, Siranos. But when an altercation between his guards and Siranos's turns deadly, the sultan of Arasht--Kadou's older sister--strips both men of some of their privileges and publicly reprimands them. As part of his punishment, Zeliha assigns Evemer to be Kadou's primary kahya. More than a bodyguard, a kahya is a highly trained professional in domestic service to the royal family. In most cases, promotion to the core guard would be a great honor, but Evemer can't help but resent the "careless-flighty-negligent" prince responsible for the unnecessary deaths of two other kahyalar.
Evemer's judgments fade to compassion as he observes Kadou's self-sacrificing kindness and realizes some of the behaviors he considered self-indulgent are actually the aftermath of panic attacks. Kadou is his own harshest critic, calling his anxiety and panic disorder "cowardice" and despairing that he'll never be free of it. Rowland writes Kadou's mental illness and the reactions of those around him with nuance, neither ignoring the impacts of mental illness on Kadou's interactions nor using it as shorthand for characterization.
A counterfeiting plot, complete with drunken information gathering, political maneuvering and assassination attempts, pushes the two men together. Their close proximity and domestic relationship leads to gorgeously intimate scenes as the two get to know each other. In one, Evemer finds himself internally justifying a second wash of Kadou's hair just so he can feel it sliding between his fingers a bit longer. And when Kadou offers to return the service, Kadou's discomfort with his position of power and his longing for connection are laid bare.
Rowland's Arasht is queernormative, with central characters of multiple genders and a social structure that seems mostly free of gendered expectations of dress, behavior and occupation. Class is instead the primary social divisor and while Kadou cannot change his status, he is acutely aware of his responsibility to everyone living in the sultanate.
A Taste of Gold and Iron is a beautiful, compelling navigation of power and consent, loyalty and love, trust and hope. --Suzanne Krohn, librarian and freelance reviewer
Shelf Talker: This Ottoman-inspired fantasy novel is an entrancing mix of queer romance and political intrigue, with emotionally resonant prose and an empathetic depiction of panic disorder.