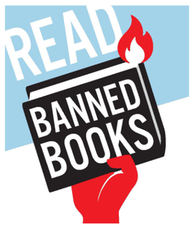 In response to the ongoing wave of book bans and challenges sweeping the U.S., Simon & Schuster has launched a promotion exclusive to independent bookstores to "assist booksellers on the front lines of book bans across the country."
Through this campaign, indies will receive "Read banned books!" merchandising kits featuring material to use both in-store and online, and there will be promotional terms and discounts for titles from S&S and distributed clients that have faced bans and challenges, including Maia Kobabe's Gender Queer.
In recent months the list of S&S titles facing bans and challenges has grown by 46%, and other affected titles include classics such as Joseph Heller's Catch-22, Ray Bradbury's Fahrenheit 451 and Ernest Hemingway's The Sun Also Rises, as well as plenty of children's and YA titles. Among those are Judy Blume's Are You There God? It's Me, Margaret, Jason Reynolds and Brendan Kiely's All American Boys, Stephen Chbosky's The Perks of Being a Wallflower and many more.
The campaign will run from the end of June to until the end of August, in advance of Banned Book Week (September 18-24). Indies can request more information about the campaign here.
---
In more S&S news, the publisher is making two books--High Conflict: Why We Get Trapped and How We Get Out by Amanda Ripley, and Let's Talk About Hard Things by Anna Sale--available for free in e-book and audiobook format for one month.
"Both of these books are about how we communicate with each other--how we get past our disagreements and have better, more productive and more satisfying conversations," said S&S president and CEO Jonathan Karp. "According to the latest polling, a majority of Americans recognize that we are divided, and that the divisions seem to be growing wider and more acrimonious. These books both offer insights into mediation, understanding, and maybe even reconciliation."
The e-books are available for free through Barnes & Noble, Books-A-Million, Amazon and other sites. The offer ends July 31.