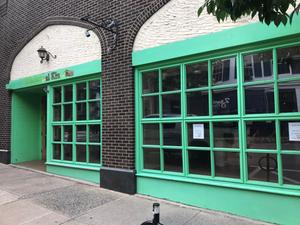 Future home of The Squirrel and Acorn.
The Squirrel and Acorn Bookshop, "a general interest bookshop where stories are discovered and created, voices heard and celebrated, and where imagination and a bit of whimsy are constant companions during your visit," will open at 103 S. Allen St. in State College, Pa., later this summer.
Andrew Aschwanden, the bookshop's owner and a research technician at Penn State, told the Centre Daily Times that the store, located "in the heart of the borough," will sell books, stationery, ink, pens and pencils, bookshelves and more. He also hopes to host contests and workshops for local readers and writers, as well as local and national authors for book signings and appearances.
"We hope to have our bookstore be a cornerstone for the community--a hub that not only attracts the university community but connects with people throughout Centre County," Aschwanden noted. "Though we hope everyone who can will visit our shop, we also hope to provide opportunities to connect with them outside of the store as well."
The Squirrel and Acorn Bookshop is moving into the former location of the Animal Kingdom, a children's store that was owned and operated by Lindsay Williamson. The Daily Times wrote that following more than 30 years in business, the Animal Kingdom merged with Growing Tree Toys two blocks away, at 202 S. Allen St.
Aschwanden told StateCollege.com: "I thought it would be unique opportunity. I felt we have the right kind of mix of community to be supportive of it, so I thought I'd go ahead and try to do it. The Animal Kingdom space came about and my family has shopped there for years so we knew how interesting the space was and I jumped at the opportunity and went from there."