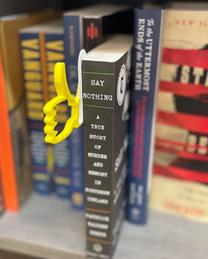 Print: A Bookstore, Portland, Maine, has a new way of highlighting staff recommendations--with Thumbs Up bookmarks. Put in the pages of a book, the bookmarks, featuring a prominent thumbs up, stick out and are easy to spot on the shelves. Bookmarks are color coordinated by bookseller (for example, Josh Christie's bookmarks are blue and Emily Russo's are black), so customers can bring the bookmarks to the booksellers and chat about their picks.
The idea for the Thumbs Up bookmarks came from the Calvert Library, Prince Frederick, Md. Print's event coordinator & social media manager Rachael Conrad (pink bookmarks) recounted that Print was tagged by a follower in a TikTok video that the library posted recently and "we loved the idea so much that we ran with it."
The bookmarks were printed with the help of Factory 3 Makerspace in Portland, a 5,000-square-feet makerspace that includes facilities for working with wood, metal, fiber, 3D printing, bicycle repair, electronics and graphic design and also offers private studios and classes in art and fabrication.