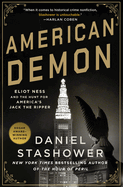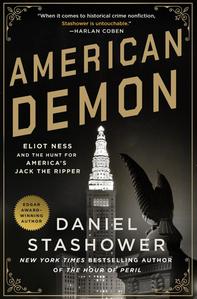 In American Demon: Eliot Ness and the Hunt for America's Jack the Ripper, Daniel Stashower notes that in 1961, a journalist wrote, "Before a new generation of Americans becomes indoctrinated with the 'untouchable' version of the life and works of the late Eliot Ness, somebody ought to sit down at his typewriter and describe the man as Cleveland knew him." It may have taken half a century, and he probably didn't write on a typewriter, but Stashower is that "somebody," and his squinty-eyed but fair-minded look at Ness adds depth and breadth to a spine-tingling true crime story.
Let the record show: Eliot Ness wasn't the glowering Prohibition agent presented in The Untouchables, his posthumously published 1957 memoir, which begat the hard-boiled television show of that name and, a few decades later, the bang-bang Brian De Palma film. Even after Ness became the face of notorious Chicago gangster Al Capone's 1931 undoing, he maintained an aw-shucks public persona that befit his years--he was in his late 20s at the time. Ness's demeanor didn't change when, in 1935, he became Cleveland's youngest-ever director of public safety, a job in which he hoped to turn, as Stashower writes, "the lessons of Capone into lasting reform."
American Demon suggests that when it came to being Ness's professional nemesis, Capone had a rival: Ness's work in Cleveland overlapped with the reign of terror of the man who came to be known as the "torso killer" for his slow but steady campaign of murder and dismemberment, beginning in 1934 and ultimately producing, piece by piece, a dozen or so corpses. Of course, it would have been a truer-to-the-myth story if Ness had been exclusively charged with finding the killer, but much of his safety director job entailed decidedly unsexy duties like solving traffic problems and managing bridge repair.
Edgar Award-winner Stashower (The Hour of Peril: The Secret Plot to Murder Lincoln Before the Civil War) approaches this material with a pit bull's tenacity, and he writes with the steeliness of an old-school journalist, suiting the book's place and time. So, did Eliot Ness get his man in Cleveland? Equally curiosity-arousing: How much did Ness depart from the media-promulgated image of him as, in Stashower's words, a "smooth amalgam of Dirty Harry and Atticus Finch"? American Demon is a thrillingly bedeviling true crime story interlaced with a nuanced character study--not of the criminal but of his flawed pursuer. --Nell Beram, author and freelance writer
Shelf Talker: This thrillingly bedeviling true crime story suggests that when it came to being Eliot Ness's professional nemesis, Al Capone had a rival: Cleveland's "torso killer."