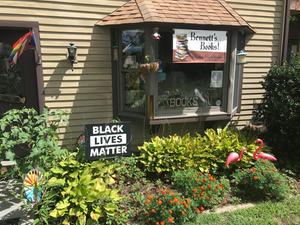 Bennett's Books, a used bookstore in Deep River, Conn., now has a free bicycle repair station for customers and community members to use. The station features a bike rack as well as tools and an air pump. Located outside of the bookstore, it is accessible to all during daylight hours.
Owner Colin Bennett told the Middletown Press that the store's focus is on creating community and helping others. "If there's any money left after paying our bills, what's left goes into the community--helping people by encouraging and fostering bicycle culture here; making sure no kid goes to bed hungry, and kids have access to books."
Bennett put the repair station together with the help of community donations. In the past, his store has featured a seed-sharing station, a plant swap and a community fridge. The Press noted that he is currently applying for nonprofit status.