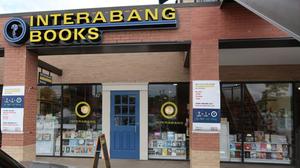 Congratulations to Interabang Books, Dallas, Texas, which is celebrating its fifth anniversary on Saturday, July 16, with an all-day, in-store party from 10 a.m. to 7 p.m.
Owner Nancy Perot said, "We invite the community to come out for this year's birthday celebration of bookselling, an event that is an especially happy day at Interabang every summer. These five years have been a wonderful journey, and our entire family of booksellers is looking forward to celebrating the anniversary with our friends."
Partner Lori Feathers added, "Our knowledgeable booksellers will be on-hand to tell customers about some of our favorite books and to make curated recommendations to satisfy any reader's interests and tastes."
Festivities include a 4 p.m. appearance by Michael Reynolds, editor-in-chief of Europa Editions, who will talk about publishing Elena Ferrante and other Europa authors, including the publisher's most anticipated fall titles; a 10:30 a.m. Saturday Story Time with free boxes of Animal Crackers and balloons; and a performance at 5 p.m. by classical guitarist James Gabriano as Interabang serves wine and beer.
The store will also offer Interabang Books pencils to each customer and a birthday bookmark with every book purchase. In addition, the store will feature an anniversary display that Carlos Guajardo, Interabang's inventory manager, said, "recalls some of our most meaningful and impactful titles of the last five years that we feel best represent the spirit of what Interabang's uniquely curated selection is all about."