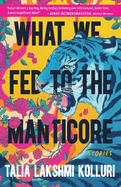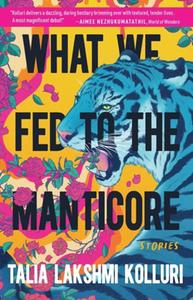 Animals tell their most harrowing, intimate and transformative experiences in What We Fed to the Manticore, a vivid, imaginative story collection from debut author Talia Lakshmi Kolluri that challenges readers to accept complexity and nuance in the inner lives of other animals.
"They say that life in the Sundarbans revolves around two things: the tide and the tigers. We are not the tide. We are the tigers." So begins the tale of the tiger narrator in the collection's title story, in which a manticore moves into the territory of a few starving tigers and begins to eat humans, a line the tigers agreed not to cross. In "The Good Donkey," the titular animal lets his beloved owner paint stripes on his hide so he can play the zebra in an attempt to reopen a zoo in war-torn Gaza City. A dog at a Kenyan nature conservancy tries to defend his dearest friend, a rhinoceros, at a terrible cost in "May God Forever Bless the Rhino Keepers." Kolluri takes readers inside the intricate musical world of whales in "The Open Ocean Is an Endless Desert," and lets a polar bear tell its species' creation story in "The Dog Star Is the Brightest Star in the Sky." A total of nine furred, feathered or finned first-person protagonists bare their hearts, fears and quests for survival in locations around the globe, many struggling to make sense of a world forever changed by that most mystifying species, the human.
Kolluri's prose reads like a beautiful song as it soars over the savannah and under the sea. She has a gift for writing realistic beliefs and behaviors for her animal characters while translating their lives in ways that demonstrate what they have in common with her readers. "A living thing is born, it moves through the world, and then it dies. For this story, it's less about the telling and more about the retelling," says the tiger, neatly distilling the basic narrative arc of every living creature. Plenty of tragedy befalls the animals, much of it manmade. However, they also experience moments of great beauty as well, such as falling in love with a mate, forming an unlikely friendship, or discovering their life's purpose. This collection serves as an impassioned reminder that humanity shares the planet with a wondrous array of other species whose inner landscapes and struggles may be more knowable than they appear. --Jaclyn Fulwood, blogger at Infinite Reads
Shelf Talker: Talia Lakshmi Kolluri's spellbinding prose illuminates the triumphs and tragedies of nine animal protagonists from their own viewpoints.