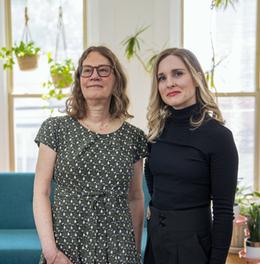 Sarah Gorham (l.) and Kristen Renee Miller
Sarah Gorham, founder of Sarabande Books, plans to retire, effective December 31, after 29 years with the company. She will be succeeded by longtime Sarabande editor Kristen Renee Miller as executive director and editor-in-chief. Miller joined Sarabande in 2014 as the director of programming and development, and was promoted to editor in 2017.
Gorham founded Sarabande in 1994 "with the mission of championing exceptional poetry, short fiction, and literary nonfiction. At a time when such genres were still on the margins, Gorham was a true pioneer; her lifelong work of cultivating a home for these works set a precedent that the larger houses would follow," the company noted. Under her leadership, Sarabande published nearly 300 titles and, in 2013, received the inaugural Small Press Publishers Award given by the Association of Writers and Writing Programs.
"These 29 years have been extraordinary, and I really look forward to this new chapter of my literary life," said Gorham. "I will begin serving as an editorial advisor and board member to Sarabande, and I will also have the time to focus more intently on my own writing. I am proud to hand the reins to Kristen Renee Miller, who has been my mentee for the past eight years."
Miller commented: "Sarah's enduring legacy is the home she has made at Sarabande for writers of poetry, short fiction, and essay. She set a precedent within the industry to value and cultivate these genres. I'm proud to have been Sarah's partner in this work over the last eight years and honored to step into her role as director."
Sarabande's catalogue includes such notable authors as Sandra Cisneros, James Tate, Mary Ruefle, Frank Bidart, Yusef Komunyakaa, Lydia Davis, Louise Glück, Joan Silber, Robert Pinsky and Rick Barot. The publisher's authors have been recipients of the Pulitzer Prize, the Nobel Prize, the National Book Critics Circle Award, the National Jewish Book Award, Lambda Literary awards, the Story Prize Spotlight Award and many PEN/American honors.