"And then booksellers did that thing they do, that beautiful, mercurial thing (that publishers have tried to harness, but always fail at)--they started talking about it. They told each other that it was worth a read. They passed their copy on, they went on Twitter and banged the drum. I wasn't expecting it--19 books had taught me to expect little--but bloody hell, it was a lovely feeling.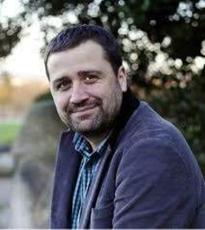 "Publication day came, and there were these wonderful piles of it in shops. And windows. Windows! I got over the embarrassment of introducing myself. I went for it, visited more than 60 shops, driving over a thousand miles. I was cream-crackered, but it was worth every Sharpie I bled dry.... So what I want and need to say to booksellers is: thank you. What you do, every day, when you shove books into readers' hands, is alchemy, pure and simple. This sales director/author is unbelievably grateful to you. And I still have a Sharpie in reserve if you need me to drop in. It's always a pleasure and never ever a chore."
--Phil Earle, sales and brand development director at David Fickling Books and author of 20 books for children and young adults, in a
commentary for the
Bookseller.
Earle's
When the Sky Falls
was recently named the British Book Awards' Children's Fiction Book of the Year.