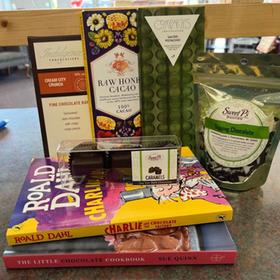 Treats at Books & Company, Wisc.
Just in case you missed it (though feel free to celebrate today anyway), yesterday was World Chocolate Day. Among the indie booksellers showcasing their chocolate obsessions on social media were:
Read Between the Lynes, Woodstock, Ill.: "It's World Chocolate Day! Did you know that many of our fine chocolates are handmade by Abdallah Chocolates, a family-owned business in Minnesota? Which are your favorites? Is there one you've always wanted to try?"

Blacksburg Books, Blacksburg, Va.: "Happy World Chocolate Day! We've got Blacksburg-made goodies from @thechocolate_spikeinc and we'd like you to come get some before we eat it all! (That's only sort of a joke. We've eaten a lot of chocolate today.)"
Books & Company, Oconomowoc, Wisc.: "How are you celebrating World Chocolate Day? We have a few delicious suggestions...."
Portkey Books, Safety Harbor, Fla.: "Where oh where could Waldo be? Wait, did you know it's WORLD CHOCOLATE DAY?!?!? MAYBE HE'S CELEBRATING AT Rocking Delicious !!!"