Speaking via video link during the Interlivro conference in São Paulo, Brazil, this week, Waterstones managing director and Barnes & Noble CEO James Daunt said "booksellers should embrace their role in championing new authors and ensuring fresh voices continue to come through," the Bookseller reported.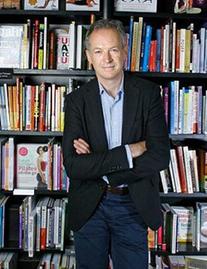 James Daunt
"I have always thought that we are called booksellers for a reason... we recommend particular books and champion particular authors that we, the bookseller, like, and we convince people to buy a book in quantity and that that is an important role that we perform," he observed, adding that booksellers should see their role as finding "the new author" and "putting a pile of that book up and selling it in quantity.... That's fun to do, but it's also important within the industry so that new voices come through."
He also spoke about the importance of being well stocked to achieve success and running bookshops efficiently: "We have a long tradition of being able to return to a publisher what we don't sell, and this allows us to be lazy." As an example, Daunt said Waterstones and B&N were previously running returns at roughly 20%-25% of sales, but now Waterstones is at 3%-4%, while B&N is below 10%.
---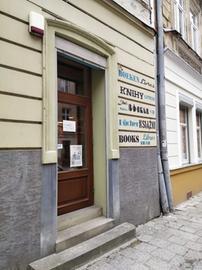 HalInBook, a bookshop in Lviv, Ukraine, is offering its services to international bookshops and libraries that wish to purchase Ukrainian titles, the European & International Booksellers Federation's Newsflash reported. In addition to providing a book order service, HalInBook helps its customers with stock curation, preparation of promotional materials and social media content, and facilitates contact with Ukrainian publishers and authors. Find out more.
---
In Norway, a new study has spotlighted a gender gap in reading. EIBF's Newsflash reported that according to the report, one in six Norwegian boys 8-19 years old did not read a single book last year. Among girls the same age, this figure is 9%. The worst result is seen among boys between the ages of 16 and 19, with 32% not reading a book in 2021.
"We see boys on top of a lot of negative statistics," said Heidi Austlid, head of the Norwegian Publishers' Association. "This is our new gender equality challenge. Reading is not the answer, but one of the tools."
---
The Canadian Independent Booksellers Association's Meet Our Member blog series highlighted India Bookworld in Surrey, B.C., which has been serving readers since 1993. CIBA spoke with co-owner Dr. Rajwant Chilana about the store's incredible history, expanding into publishing, and his vision for the future. Among the highlights of the q&a:
What is your vision for the store's future?
We are planning to increase our inventory of books and reach more people and libraries. We want to expand by including more South Asian languages and e-books. There are many prominent award-winning Indo-Canadian authors who have published bestsellers in various languages. India Bookworld is developing a special collection of works by local authors and will be actively promoting their publications among local customers and libraries. We also hope to involve more young people and foster lifelong reading habits in different languages. Some of our customers have asked us to host book reading clubs or literary festivals for South Asian writers and we are currently looking at options. --Robert Gray