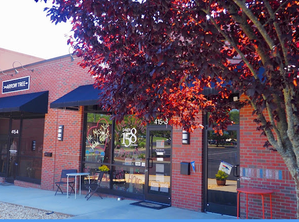 Page 158 Books, a bookstore and bar in Wake Forest, N.C., is expanding into an adjacent storefront. Owners Suzanne and Dave Lucey have purchased the 3,200-square-foot retail space next door, which will bring Page 158's total square footage to 4,800.
The new space will be home to a stage, which will be used for author events and shared with the Wake Forest Listening Room, a live music series featuring local and regional artists. The Luceys will add a full commercial kitchen and partner with another local business to bring a cafe to the space that will serve lunch and grab-and-go dinners.
Dave Lucey reported that the expansion will allow Page 158 to have more dedicated displays for things like Small Press of the Month and Local Authors, which they've "wanted to do for a while." At the same time, the bar's beer and wine selection will grow, and a neighboring business is giving Page 158 a section of its old bar-top.
"We'll finally have room to have board game nights, which we are very excited about," Lucey added. "Naturally we'll be expanding our board game selection to go along with that."
The Luceys hope to have the additional space "at least partially open" by the end of this year.--Alex Mutter