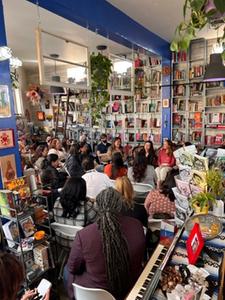 Libélula Books, San Diego, Calif,
Independent bookselling has gotten some good national press in the last month. First there was an Associated Press story in June entitled "Indie bookstore boom turns page to a more diverse America" (via the Christian Science Monitor). Then yesterday's New York Times ran a feature entitled "Some Surprising Good News: Bookstores Are Booming and Becoming More Diverse."
Both stories highlight that at the beginning of the pandemic, with strict lockdowns, indie bookstores were hard hit and sales fell--and concern about their future grew. And yet, as many of us know, indies, their customers and suppliers rallied, and most have reported a surge in sales in the last year and a half. At the same time, many new stores have opened, a significant number of which emphasize diverse titles and serving diverse communities.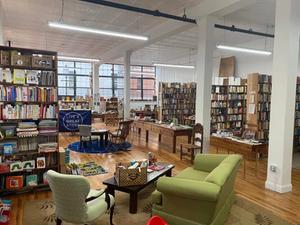 Hudson Valley Books for Humanity, Ossining, N.Y.
In both stories, American Booksellers Association CEO Allison Hill spoke of the recent growth in association membership. The most recent figures (via the Times) are 2,023 member stores in 2,561 locations, up substantially in the past two years and higher than in the decade of 2010-2020, when membership grew every year. Despite fears of mass closings, 80 indies closed in 2020 and 41 in 2021. At the same time, some 300 stores opened in the last few years and more than 200 stores are preparing to open in the next year or two. Hill told the Times: "It's kind of shocking when you think about what dire straits the stores were in in 2020. We saw a rally like we've never seen before." And, she emphasized, many of the new stores have a more diverse focus. She told the AP: "The rise in BIPOC stores is a big change for us."
Among stores mentioned in the articles are Yu and Me Books, New York, N.Y.; the Salt Eaters Bookshop, Inglewood, Calif.; the Libros Bookmobile, Taylor, Tex.; Los Amigos Books, Berwyn, Ill.; Reader's Block, Stratford, Conn.; Kindred Stories, Houston, Tex.; Socialight Society, Lansing, Mich.; Libélula Books & Co., San Diego, Calif.; Modern Tribe Bookshop, Killeen, Tex.; Birdsong Books, Locust Grove, Ga.; Hudson Valley Books for Humanity, Ossining, N.Y.; and the Urban Reader, Charlotte, N.C. All of them variously have an Asian-American, Latino/a, Black, GLBTQ or other diverse focus.