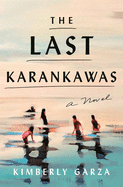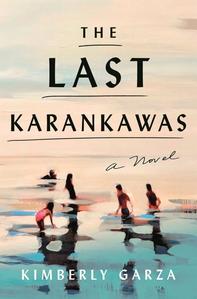 In her stunning debut novel, The Last Karankawas, Kimberly Garza takes readers into the intertwined lives of the Filipino and Mexican American residents of Galveston, Tex., and surrounding communities. At the center of her narrative are Carly Castillo, who is torn between her love for her home and her secret desire to go somewhere new, and Carly's grandmother, Magdalena, who insists that their family is descended from the Karankawas, a "vanished" Indigenous tribe. Carly's Filipina mother, Maharlika, is mostly conspicuous by her absence: she left when Carly was six years old and they haven't seen her since. As Carly grows, she and Magdalena learn to navigate new layers to their relationship, especially as Magdalena's memory begins to fail.
Garza introduces her characters through a series of linked stories, each focusing on a different character: Carly's boyfriend, Jess, a star shortstop who falls in love with fishing; Jess's undocumented cousin, Mercedes; Magdalena's day nurse, Kristin; Kristin's brother, Pete; and various people who are connected (intimately or peripherally) to all of them. The narrative shifts back and forth in time, telling stories of immigration, wandering, childhoods and first marriages, but the timelines eventually draw together as Hurricane Ike heads for the Texas Gulf Coast. The residents of Galveston, including Carly, Jess and others, must decide whether to evacuate or to stay and hunker down. After the storm, they must also decide whether and how to rebuild.
Drawing on her firsthand experience of south Texas and its communities, Garza immerses her readers in sensory details: the green rivers and prickly underbrush of the Texas Hill Country, the thick salty air and brown Gulf water of Galveston. She draws a sharp portrait of an often-overlooked community, focusing her lens on Fish Village, the working-class neighborhood where most of her characters live. Her narrative, and characters, are full of contradictions: Catholic masses and Indigenous rituals; a Vietnamese man who proudly wears a "BOI" (Born on the Island) baseball cap; undocumented immigrants who feel a swell of pride at the national anthem for the country they can never quite claim. Garza highlights the diverse origins and worldviews behind the brown faces of Texas's south coast, and celebrates their quiet resilience, ingenuity and strength. She follows their stories, but leaves some ends hanging loose; these characters, like their communities, are too complex for tidy endings.
Evocative, sometimes heartbreaking and full of rich descriptions, The Last Karankawas is a love letter to the Galveston most tourists never see and a tribute to the people who sustain, and are sustained by, their adopted homeland. --Katie Noah Gibson, blogger at Cakes, Tea and Dreams
Shelf Talker: Kimberly Garza's evocative debut novel immerses readers in the Filipino and Mexican American communities of Galveston and south Texas.