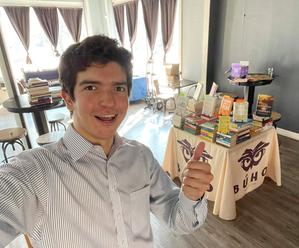 Gilbert Hernandez at a recent Búho pop-up.
Following its debut as a pop-up bookstore this spring, Búho in Brownsville, Tex., is looking for a permanent home in which to open a new bookstore and cafe, Valley Central reported.
Owner Gilbert Hernandez launched Búho after realizing that Brownsville was one of the largest metropolitan areas in the U.S. without a general bookstore. The shop made its debut in March with an appearance at the Amigoland Convention Center's pop-up event, where Hernandez sold mainly children's books, thrillers, romance novels and business and self-help titles.
Hernandez plans to continue doing pop-up appearances while searching for a space, ideally in downtown Brownsville or in the Mitte Cultural District. Currently Búho sells used titles, but as the bookstore becomes more established Hernandez intends to become a new book vendor as well.
In a post on the store's website, Hernandez noted that he's heard plenty of excuses about why Brownsville can't sustain an indie bookstore, including that its residents are too uneducated, too poor and don't care about literature.
"To all that cynicism, I call bullsh-t," Hernandez wrote. "My time here after college has taught me that Brownsville has plenty of people who read like hell, read casually, and we've got lots of kids who do so, too. Not to mention that many of our neighbors are interested in picking up the reading habit if given the right book, author, or genre."
He told Valley Central that the Brownsville community has shown a lot of support for the store. "They are all rooting for this. They want to see this happen as much as I want to see it happen. So, it's on me to make sure this happens for the city of Brownsville."