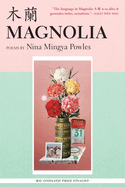 Magnolia, the lush first poetry collection of 39 pieces by essayist Nina Mingya Powles (Small Bodies of Water), crosses cultures and languages, searching for a home amidst a riot of colorful flora.
"Mulan" translates as magnolia, and Disney's take on the Chinese legend of Mulan, as well as the magnolia tree and its hue, are recurring references. For the mixed-race Powles, the film was an introduction to Asian representation: "The first movie I watched with a Chinese character in it was Mulan./ To help me practise, we watched it in Chinese but I understood none of the words."
Growing up, Powles felt she couldn't match Mulan's ideal of beauty, "a Disney princess.../ with straight hair/ thin waist/ hardly any breasts/ unlike me with my thick legs/ and too much hair that doesn't stay." A feeling of being neither one thing nor another--captured by the "almost" refrain in "City of forbidden shrines"--was compounded by the discomfort of being exoticized: "once a guy told me mixed girls are the most beautiful/ because they aren't really white/ but they aren't really Asian either."
Food and travel are enticing elements. "Breakfast in Shanghai" contains mouth-watering, alliterative descriptions: "Layers of silken tofu float in the shape of a lotus slowly opening under swirls of soy sauce." The city's impressions on 20th-century writers reveal its other angles: "Letter from Shanghai, 1938" incorporates lines from New Zealand poet Robin Hyde's travel memoir, while "Falling city" starts at novelist Eileen Chang's apartment and proceeds to examine her themes and characters.
Powles experiments with formats here: questions and answers in "Origin myths"; captions listing the colors in unseen photographs in "Two portraits of home"; and a fill-in-the-blanks exercise in "Conversational Chinese." Prose paragraphs alternate with stanzas. The visual vocabulary is sumptuous: "Maggie Cheung's blue cheongsam is patterned with pink peonies. Dark magenta, dark magnolia, a colour that is edible."
Chinese characters bridge the familiar and the tantalizing unknown. The struggle to express oneself in other languages is a thread running through the book, especially in "Mother tongue" and "Mixed girl's Hakka phrasebook." To the complicated question of where one belongs, flowers and colors sometimes provide a miraculous answer, as when the poet finds a kōwhai tree--a reminder of New Zealand, where she's from--in her new surroundings in London. "For a moment I do not breathe air, I breathe yellow, I breathe myself home." --Rebecca Foster, freelance reviewer, proofreader and blogger at Bookish Beck
Shelf Talker: The 39 poems in Nina Mingya Powles's sumptuous debut collection linger on food and colors as they reflect on the challenges of living between languages, cultures and races.