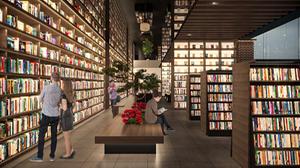 Japanese bookstore chain Tsutaya Books recently opened its first Southeast Asian store at the new Pavilion Bukit Jalil, Kuala Lumpur, Malaysia. Prestige reported that the new store "aims to inspire and transform lifestyle with the store's concept of 'Cultivate Culture & Lifestyle'--offering a conducive environment for developing characters, fostering relationships and strengthening community bonds."
The 31,000 square feet of space includes an expansive bookstore, a café, specialized merchandise, dedicated space for family-friendly activities, a playground and low bookshelves for children. There is also a collection of curated gifts and souvenirs including fine stationery, arts and crafts, decorative items, fragrances and more. Prestige also noted that at Tsutaya Books, "a team of expert concierges will offer visitors personalized recommendations and assistance in genre-specific areas of interest."
Hideyuki Uemoto, head of Tsutaya Books Malaysia, said: "We look forward to launching our first Southeast Asia bookstore with Pavilion Bukit Jalil and we cannot wait for Malaysians to experience the Tsutaya brand for the first time. In line with our vision to cultivate culture and lifestyle, we hope to create a space for families and children who love books, design, and art to grow, explore and thrive together at Tsutaya Books."
---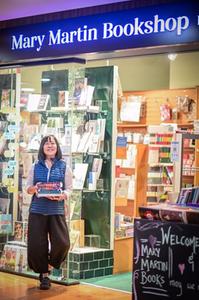 The Australian Booksellers Association's newsletter featured an interview with Jaye Chin-Dusting, new ABA management committee member and owner of Mary Martin Bookshop, with three stores in Melbourne. Among the highlights of the q&a:
When did you start your journey as a bookseller?
I bought the Mary Martin Bookshop in Southbank in 2016. Up until that time I was a Professor of Medical Research, but I must say the one passion switched to the other pretty instantaneously. I was very fortunate to inherit a team of brilliant booksellers, most of whom have stayed with me. We have since opened a shop in Port Melbourne and another small one in the Queen Victoria market.
Can you tell us a little about Mary Martin Bookshop?
Mary Martin was an Australian born in Adelaide. She opened her first shop in a back shed in her parents' home. The Mary Martin Bookshops morphed into several different structures but by the time I came along, the shop in Southbank was the last one standing in the country. We have tried to honor her legacy though, as by all accounts she seemed a remarkable woman. For example, our logo, a mandala, was inspired by her strong ties to India.
What do you see as the role of the ABA?
I look forward to learning more about the ABA. At this point in time, it appears to me the ABA is entering, and consolidating, not only as a strong voice and advocate for the booksellers of Australia, but also in very practical ways which could really impact the financial bottom line of bookshops around the country. I believe we are on the cusp of a very exciting, transformative time for the association and I am delighted to be involved.
---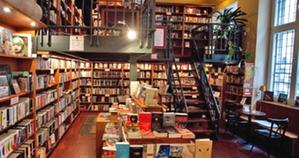 Globe Bookstore, Prague
Noting that Prague, Czech Republic, is "a bibliophile's paradise," TheTravel shared "10 reasons to visit this lovely city in 2022.... Prague is the stuff of bookworms' fantasies. In addition to its many world-famous libraries and independently owned bookstores, the Czech capital has given birth to many distinguished authors, including Franz Kafka and Václav Havel. It was awarded a UNESCO City of Literature at the end of 2014."
Bookseller highlights included the Globe Bookstore, "which houses a wide selection of hand-picked quality titles" and is located "in a 130-year-old building with nine-meter vaulted ceilings"; Book Therapy, which "offers customers a therapeutic experience," including "a novel concept, 'Book Therapy VIP Experience,' where you can enjoy browsing books with a glass of wine all by yourself"; PageFive Bookstore, "an excellent site for art book lovers"; and Artmap Bookstore, which "aspires to blur the barriers between books and art, literature and the visual arts, and introduce new or previously unexplored issues to the public's attention."
---
Bookseller moment from the archives: Canadian bookshop Munro's Books, Victoria, B.C., tweeted: "Happy 91st birthday to Alice Munro! How many people buying books from that pleasant clerk knew they were in the presence of literary greatness?" --Robert Gray