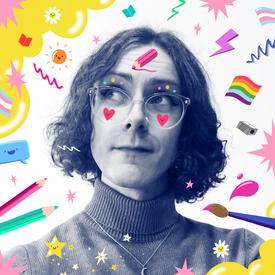 Harry Woodgate is an author/illustrator living in St Albans, Hertfordshire, England. Their first solo authored and illustrated picture book, Grandad's Camper, won a Stonewall Honor. Timid, a picture book about a child dealing with their inner cowardly lion, is available now from little bee books.
On your nightstand now:
Ellie Pillai Is Brown by Christine Pillainayagam. This YA rom-com is entertaining, delightfully awkward and heartwarming in equal measure. The author has even written and recorded an album you can listen to as you read, which is brilliant.
Entangled Life by Merlin Sheldrake, which is an utterly fascinating introduction to the world of mycology, blending the scientific with the philosophical in a very engaging and readable way.
Favorite book when you were a child:
Some favorites from when I was very young include the Kipper books by Mick Inkpen, the Percy the Park Keeper series by Nick Butterworth and No Roses for Harry by Gene Zion and Margaret Bloy Graham.
When I was a bit older, I devoured fantasy series such as the Edge Chronicles by Paul Stewart and Chris Riddell and the Keys to the Kingdom series by Garth Nix.
Your top five authors:
Emily St. John Mandel for the way she uses words like brushstrokes, the sense of disparate elements converging, a kind of literary mark-making.
L.D. Lapinski, whose Strangeworlds Travel Agency series is one of the most inventive, joyful and inclusive middle-grade trilogies I have read in a long time.
Akwaeke Emezi, whose ability to write across genres and pack every sentence with so much power and emotion is endlessly inspiring.
Illustrators Dapo Adeola, whose character design skills are truly mind-blowing, and Melissa Castrillon, whose books are objects of absolute beauty.
Book you've faked reading:
The History Boys by Alan Bennett, which I had to read for a school assignment once but found so pretentious I couldn't finish it. There are lots of other books I haven't finished for various reasons, too, but few that I've actually lied about reading.
Book you're an evangelist for:
Pet by Akwaeke Emezi. Breathtaking, beautiful, urgent, necessary--a gut punch of a book which manages to remain sensitive and delicate at the same time.
This Is How You Lose the Time War by Amal El-Mohtar and Max Gladstone, a magically playful, poetic, dizzying exploration of time and language and love.
Book you've bought for the cover:
At least 80% of my picture book collection--and probably a fair proportion of everything else, too. Recently, the hardback edition of The Memory Police by Yoko Ogawa, jacket design by Tyler Comrie; and Oddity by Eli Brown, illustrated by Karin Rytter.
Book you hid from your parents:
My own diaries.
Book that changed your life:
The books of Oliver Jeffers, Beatrice Alemagna, Carson Ellis and Jon Klassen were great inspirations whilst studying illustration at university, teaching me the power of illustration as a narrative form. But, as much of a cliché as it is, I think every book changes us in one way or another, offering something different and valuable.
In an entirely different way, Grandad's Camper has changed my life, too--I have met so many wonderful people during the process of publishing it, and it helped me find a sense of purpose in my career for which I am incredibly grateful.
Five books you'll never part with:
I got rid of lots of my childhood books during my teens and have regretted it ever since, so I have no plans to do the same again! There are way more than five books that I intend to hang onto for a long, long time.
Book you most want to read again for the first time:
The Starless Sea by Erin Morgenstern. This was the last book I read before the pandemic, and I remember sitting in the deep Chesterfield armchair at the back of my local coffee shop in early 2020, rain hammering the windows, lost in this story about stories, about hidden doors and time collapsing, and the peculiar premonitory experience of emerging into a world vastly changed from the one you left years before.