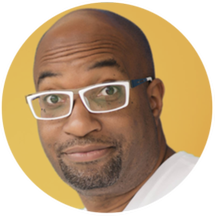 Author, poet and educator Kwame Alexander will be the host of America's Next Great Author, a reality television series "geared toward anyone who loves drama on or off the page," the organizers said. The first step will be nationwide tryouts in several cities to "show off amateur writers as they get one minute to pitch their book ideas to a panel of publishing experts."
After the tryouts, "six charismatic finalists from vastly different places and backgrounds enter the Writer's Retreat together for a month of live-wire challenges and spectacular storytelling. These talented amateurs have to start their books from scratch on day one of the Retreat and finish by the end of the thirty days. The climactic finale will reveal who made it to the finish line to become America's Next Great Author," ANGA noted.
The judges include author Jason Reynolds, FOX5 TV presenter Angie Goff and writer/performer Marga Gomez. Mentors are Arielle Eckstut and David Henry Sterry, co-founders of the Book Doctors. The pilot episode will be filmed in San Francisco. ANGA wrote that "hopefuls can pitch their books to a panel of judges and you could win $2,500! The judges critique everything from idea to style to potential in the literary marketplace and everyone comes away with concrete advice from publishing industry professionals."
ANGA noted that it "is dedicated to including writers who aren't normally given a seat at the table in mainstream publishing.... The series will feature writers from communities and cultures all across America who bring their unique voices to readers and the world of literature."